Stay in the know about wildlife, water quality, and ecosystems on Sanibel and Captiva Islands and in Southwest Florida
Grant to Fund New Weather Stations
October 25, 2023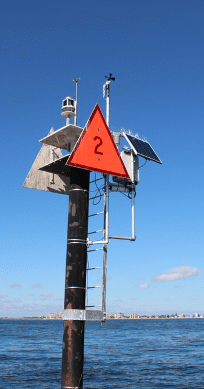 The River, Estuary, and Coastal Observing Network (RECON) weather stations have been an invaluable resource for researchers and the local boating community. Originally launched in 2012, funded by a grant from the West Coast Inland Navigation District (WCIND) and Lee County, they were the first weather stations in the area located directly over the water, providing a more accurate picture of the actual conditions on the water than shore-based stations.
Unfortunately, during Hurricane Ian, the Fort Myers and Redfish Pass stations were lost when the channel markers they were located on were destroyed. The Gulf of Mexico piling managed to survive Ian, although it has a little more lean to it than before.
However, the 24-foot-plus waves knocked off or shattered all the equipment attached to it. Recognizing the importance of these weather stations, WCIND and Lee County have awarded a new grant to the Marine Lab to replace all the equipment that was lost.  
A significant amount of customization is needed to get the stations installed and working with the other RECON components, so it will be a little while until the stations are back online.