Stay in the know about wildlife, water quality, and ecosystems on Sanibel and Captiva Islands and in Southwest Florida
Rainy Seasons & Algal Bloom Trends
August 23, 2023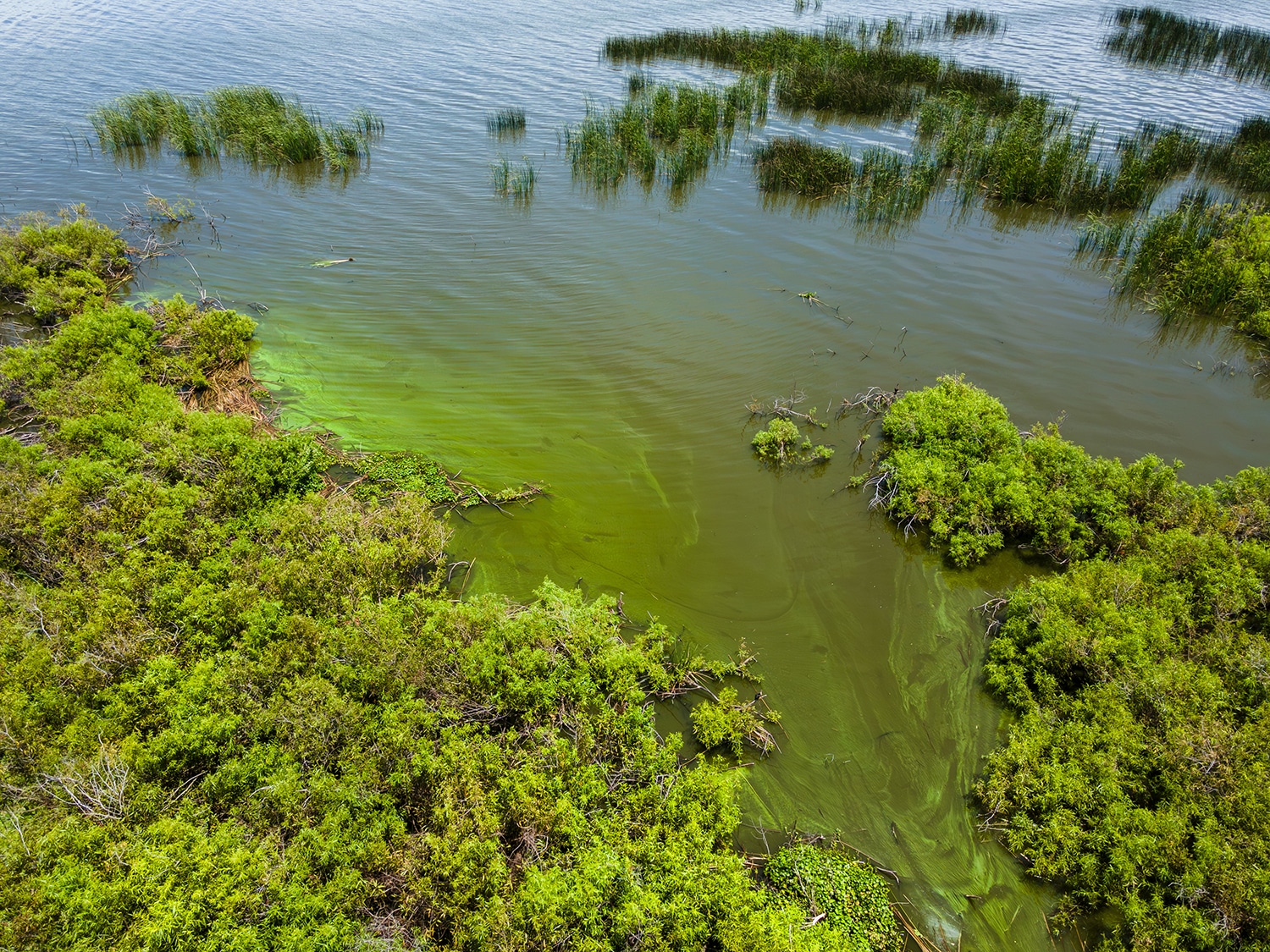 By Tricia McCormack, SCCF environmental policy intern
Setting the Stage
Summer has come to south Florida and the rainy season is in full effect. Whether you are fishing, boating, or walking on the beach — when the water is beautiful, it serves as an escape from the devastation Southwest Floridians have experienced over the last year after Hurricane Ian.
However, along with the yearly rains, the risk of toxic harmful algal blooms, damaging lake releases, and environmental harm can follow. With the water quality issues in South Florida compounding over the summer, we have to be prepared for potential ecological, economic, and human health impacts to our community.
As Lake Okeechobee rises with the rains, the water must be released somewhere, increasing the risk of damaging discharges to the Caloosahatchee Estuary. The risk of blue-green algae blooms and red tide, coupled with the looming threat of hurricane season, can put everyone on edge as our communities brace for ecological impact.
We are also facing a likely shift into El Niño, making for a much wetter dry season than we would generally experience. These two events will exacerbate existing water quality issues by hitting Florida with the force of two different ecologically damaging events at once.
Hurricane Irma & Red Tide
The region has previously experienced long-term impacts on water quality from hurricanes. In September 2017, Hurricane Irma struck south Florida and brought with it an excessive amount of water, leading to long-lasting ecological ramifications including flooding Lake Okeechobee with excess nutrients and harm to aquatic wildlife.
In the wake of a hurricane such as Irma, Lake Okeechobee can have above average water levels for months after a storm's landfall. When the lake's water level exceeds its standard threshold, the water must be released through lock and dam structures along the Caloosahatchee. These lake flows send ample amounts of the lake's fresh water down the Caloosahatchee and into the Gulf of Mexico, resulting in damaging discharges.
Damaging discharges are the high influxes of freshwater into a body of saltwater, which causes dramatic changes in salinity and can cause harm to species like tape grass and oysters. "Optimal" flows can also have damaging effects when the water being discharged contains other pollutants.
Any additional high influx of water to Lake Okeechobee — such as from a hurricane or uncharacteristically rainy dry season from an El Niño — will increase flows and discharges. This harms the ecological health of Southwest Florida by pushing the salinity envelope, and excessive nutrients that come from agricultural and stormwater runoff (mainly phosphorus and nitrogen), also create the perfect conditions for harmful algal blooms.
As blue-green algae dies entering saltwater, its nutrients are freed into the saltwater and readily taken up by Karenia brevis diatoms, resulting in red tide blooms. Along with harming the marine environment, red tide blooms cause respiratory inflammation among beachgoers and may lead to massive amounts of wildlife death. These issues have ultimately cost Florida millions of dollars in lost tourism revenue.
Last El Niño's Effects on Summer
As tropical storm systems provide optimal conditions for red tide, El Niño events facilitate the presence of blue-green algae in freshwater, which lead to toxic Harmful Algal Blooms (HABs). Lake Okeechobee's blue-green algal blooms have become increasingly common. However, El Niños — while they make hurricanes less frequent — often bring more rain to south Florida during the dry season.
With the additional rain, flows must be released from the lake. And since El Niño events cause this to occur during the dry season, algal blooms become more prominent and last longer. As nutrient-rich lake water is released down the Caloosahatchee, it brings excessive amounts of nutrients into the Gulf to be taken up by K. brevis diatoms, resulting in red tide blooms.
Although algal blooms occur naturally, water releases from Lake Okeechobee can transport them to other areas and threaten the health of people, wildlife, and the environment.
Both hurricanes and El Niño events facilitate the conditions that exacerbate red tide and other HABs. The lasting ramifications from Ian, in combination with this year's El Niño event, provide optimal conditions for larger and longer lasting blooms to occur during this upcoming dry season. Their intensification contributes to the detriment of Southwest Florida's economy, human health, and ecological health.
As of June 2023, this year's patterns of lake heights, flows, and resulting algal blooms closely follow those of 2018. Both Irma and Ian hit in mid-late September. Following these hurricanes, Florida suffered red tide blooms beginning in mid-November and lasting for several months in both 2017 and 2022.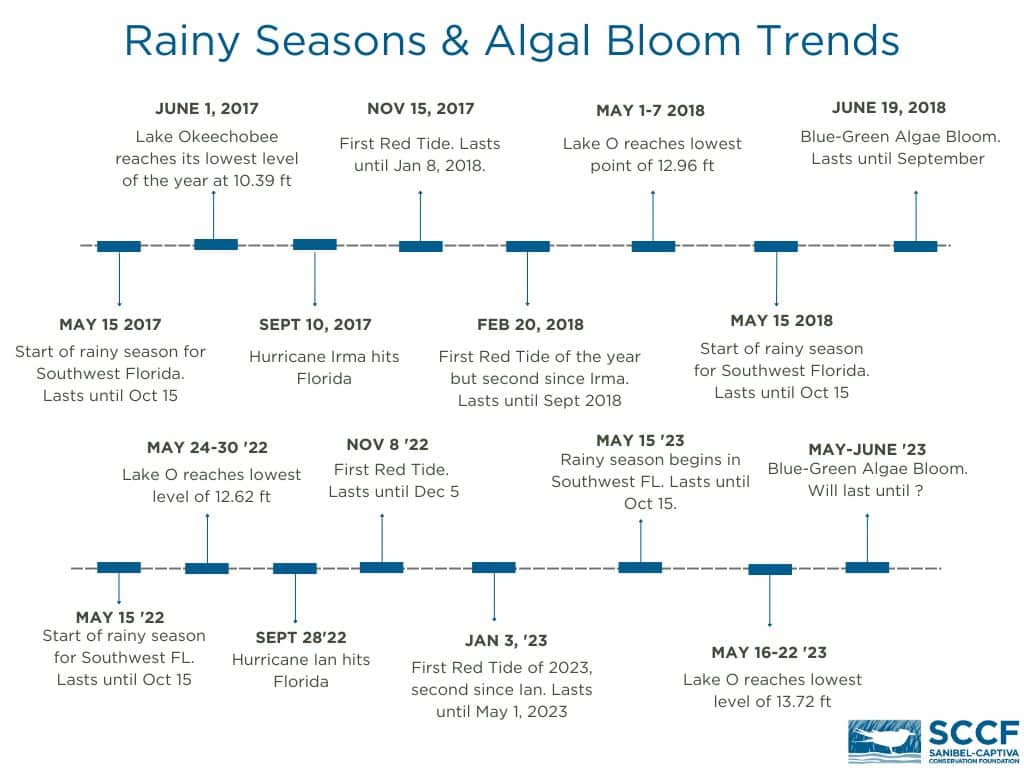 In May of 2018 and 2023, Lake Okeechobee reached its lowest lake levels of each year; however, in each of these years the lowest lake level was still about a foot or two above ideal lake height for the peak of dry season. Lastly, in 2018, a significant blue-green algae bloom covered much of Lake Okeechobee from May until September. A blue-green algae bloom covered over 80% of the lake at points this July and August, and has since been fluctuating in percentage. The similarities between ecological events in 2017-18 and 2022-23 could imply a possible increase in the presence of HABs in southwest Florida this Fall.
Call to Action
To effectively combat a potentially damaging rainy season, Lake Okeechobee discharge protocols and nutrient-management modifications are urgently needed. Since things like hurricanes and El Nino events cannot be controlled, we need to focus on what we can control — nutrient pollution in our water sources.
There is hope in current projects to improve water quality, such as the ALJO Four Corners Rapid Infiltration project, which will create 20,000 acre-feet of new water storage, remove 1.2 metric tons per year of total phorphorus, and remove 39+ metric tons per year of total nitrogen. Projects like these must continue to be prioritized to achieve and maintain adequate water quality in Southwest Florida.