Stay in the know about wildlife, water quality, and ecosystems on Sanibel and Captiva Islands and in Southwest Florida
Lake Okeechobee Reaches 15 Feet
July 26, 2023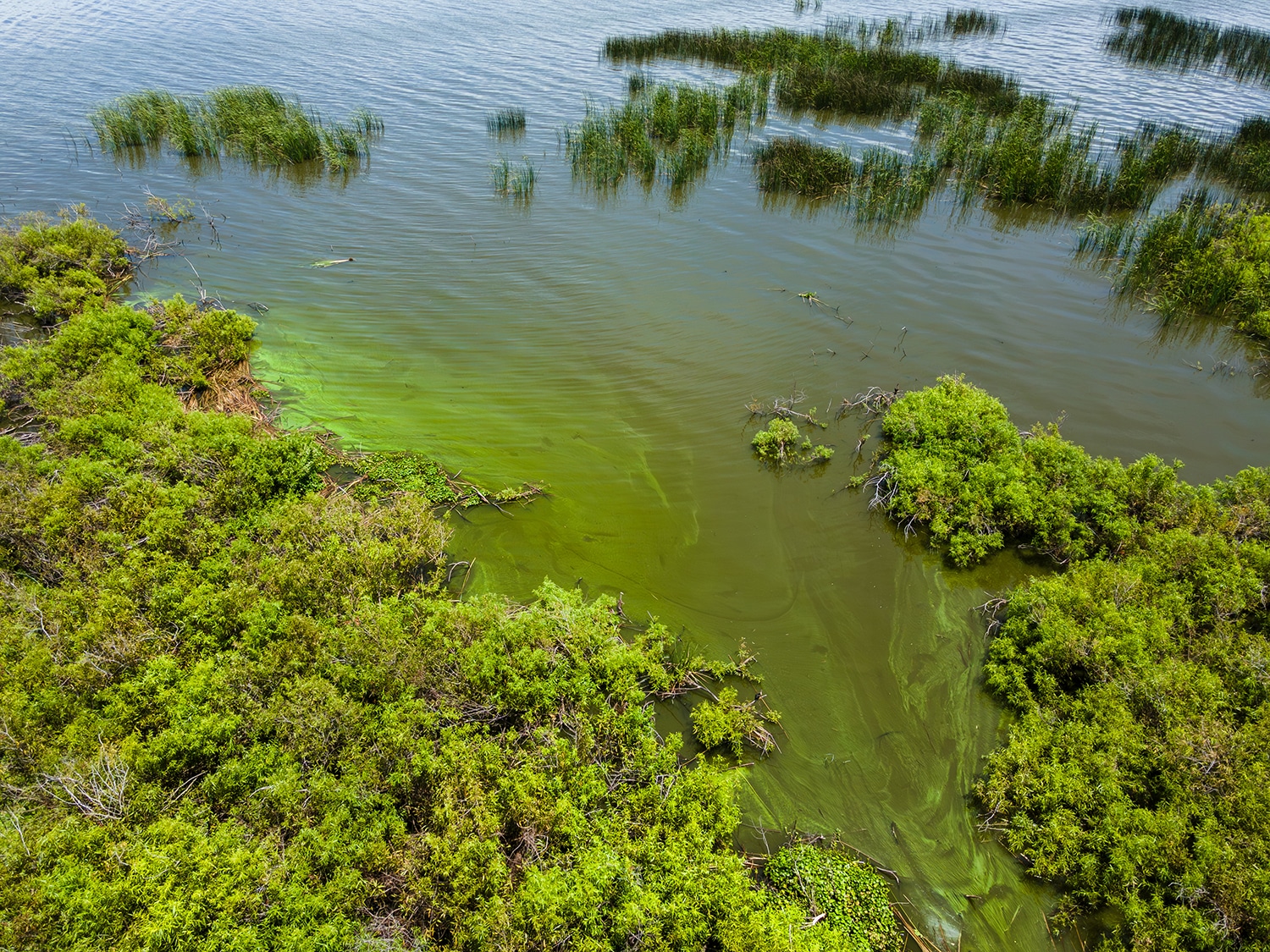 The new regulation schedule for Lake Okeechobee isn't finalized yet, but we're already seeing a preview of what the management system could look like, says SCCF Research & Policy Associate Leah Reidenbach.
"The risk of high damaging releases to the Caloosahatchee and St. Lucie estuaries looms as tropical activity increases in the fall months," Reidenbach said. "One tropical storm or hurricane could trigger sudden damaging releases that could contain toxic blue-green algae, which is currently covering 84% of the Lake."
The Lake Okeechobee System Operating Manual (LOSOM) is expected to be finalized in December after the completion of a biological opinion from the National Marine Fisheries Service to determine the effects of LOSOM on red tide and sea turtles. For now, the U.S. Army Corps of Engineers is managing the lake under LORS08.
LOSOM will minimize the number of days of damaging discharges to the Caloosahatchee, while also maintaining the lake at higher levels, which has been made possible with the rehabilitation of the Herbert Hoover Dike to prevent flooding in the communities surrounding the lake.
Under LOSOM, flows to the Caloosahatchee will not exceed 2,000 cubic feet per second (cfs) at the Franklin Lock and Dam (S-79) until the lake is over 16 to 17 feet, depending on the time of the year. Currently, the lake is at 15 feet, and the Army Corps schedule is for a 7-day average pulse release of 2,000 cfs at S-79, while LORS08 calls for "up to 3,000 cfs" at S-79.
"The lack of larger releases during the dry season, when we were contending with red tide, has led us to the ecologically damaging situation we are in now with high lake levels in the wet season," Reidenbach said. "High lake levels are damaging to the lake's submerged aquatic vegetation, which provides important habitat for young-of-the-year and juvenile bass. Multiple years of high lake levels can have devastating effects on the bass fishery."
Once submerged aquatic vegetation and emergent plants are damaged, it can take several years for them to recover, but only if lake levels remain low for extended periods of time.
Additionally, higher releases in the late summer could coincide with oyster spawning season and have negative effects on oyster survival due to the combination of high temperatures and low salinity.
"The El Niño forecast is expected to bring higher-than-average rainfall in Florida for the rest of the year and into next year's dry season, meaning high lake levels might be expected for at least another year," Reidenbach said. "We encourage the U.S. Army Corps to prioritize utilizing all available outlets, when safe and possible to do so, to reduce Lake levels."
Added SCCF Environmental Policy Director Matt DePaolis: "While LOSOM will not eliminate damaging discharges to the Caloosahatchee estuary, it will greatly reduce the number of days that we are receiving those discharges. The plan isn't perfect, but it represents an improvement over the current system, with a more equitable distribution of the benefits and burdens of the water.  Once additional Comprehensive Everglades Restoration Projects projects come online, like the EAA reservoir, we will see compounding benefits to our environment, our economy, and our ecosystems across Southwest Florida."