Stay in the know about wildlife, water quality, and ecosystems on Sanibel and Captiva Islands and in Southwest Florida
SCCF Attends Everglades Restoration Ribbon Cutting
July 25, 2023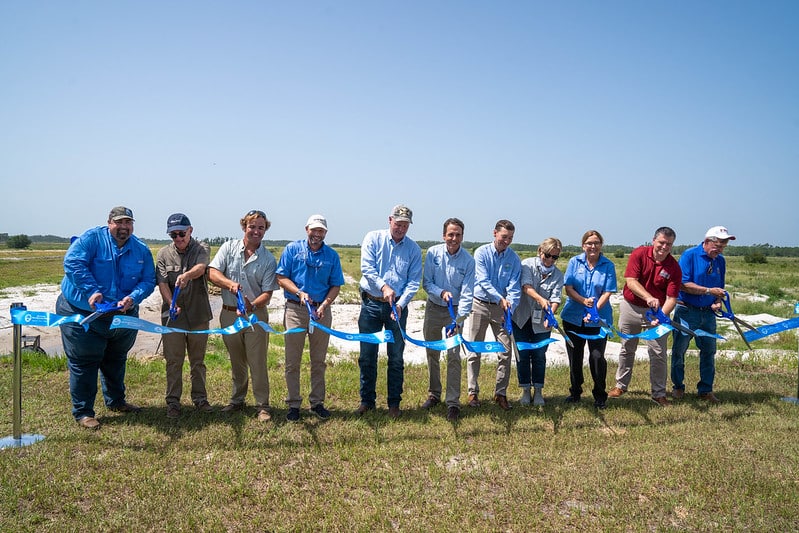 On July 25, SCCF attended the South Florida Water Management District's ribbon cutting of the ALJO Four Corners Rapid Infiltration Project.
The ALJO project is a component of the Comprehensive Everglades Restoration Plan (CERP), an extensive mission working to restore water quality to the Everglades watershed across South Florida. The U.S. Army Corps of Engineers and the SFWMD have overseen the project's implementation while collaborating with the Florida Department of Environmental Protection, the owner of the land (ALJO Groves, L.C.), and the Florida Legislature, which funded the project.
The ALJO project will hold 20,000 acre-feet of water from the project area for storage and treatment.
"The system works using a Rapid Infiltration Basin to allow water to pass into an aquifer, purifying the water before it enters the local surface waters. From this, an estimated 1.2 metric tons of phosphorus and 39+ metric tons of nitrogen can be removed from the water per year," explained SCCF Environmental Policy Intern Katie Gretter. "Removal of these nutrients is critical in improving water quality and reducing the effects of harmful algal blooms. "
Throughout the event, speakers echoed the importance of the collaboration that led to the project's formation. Primarily, the project highlighted an example of private and public interests working together, and many were happy to see the plan finally coming to fruition.  
"As more Everglades Restoration projects come online, we will begin to see incremental progress being made," said Environmental Policy Director Matt DePaolis.  "Every drop of water captured, stored, treated is one less drop of polluted water that is impacting our coastal environments."