Stay in the know about wildlife, water quality, and ecosystems on Sanibel and Captiva Islands and in Southwest Florida
3-Flippered Sea Turtle Nests on Sanibel
June 16, 2023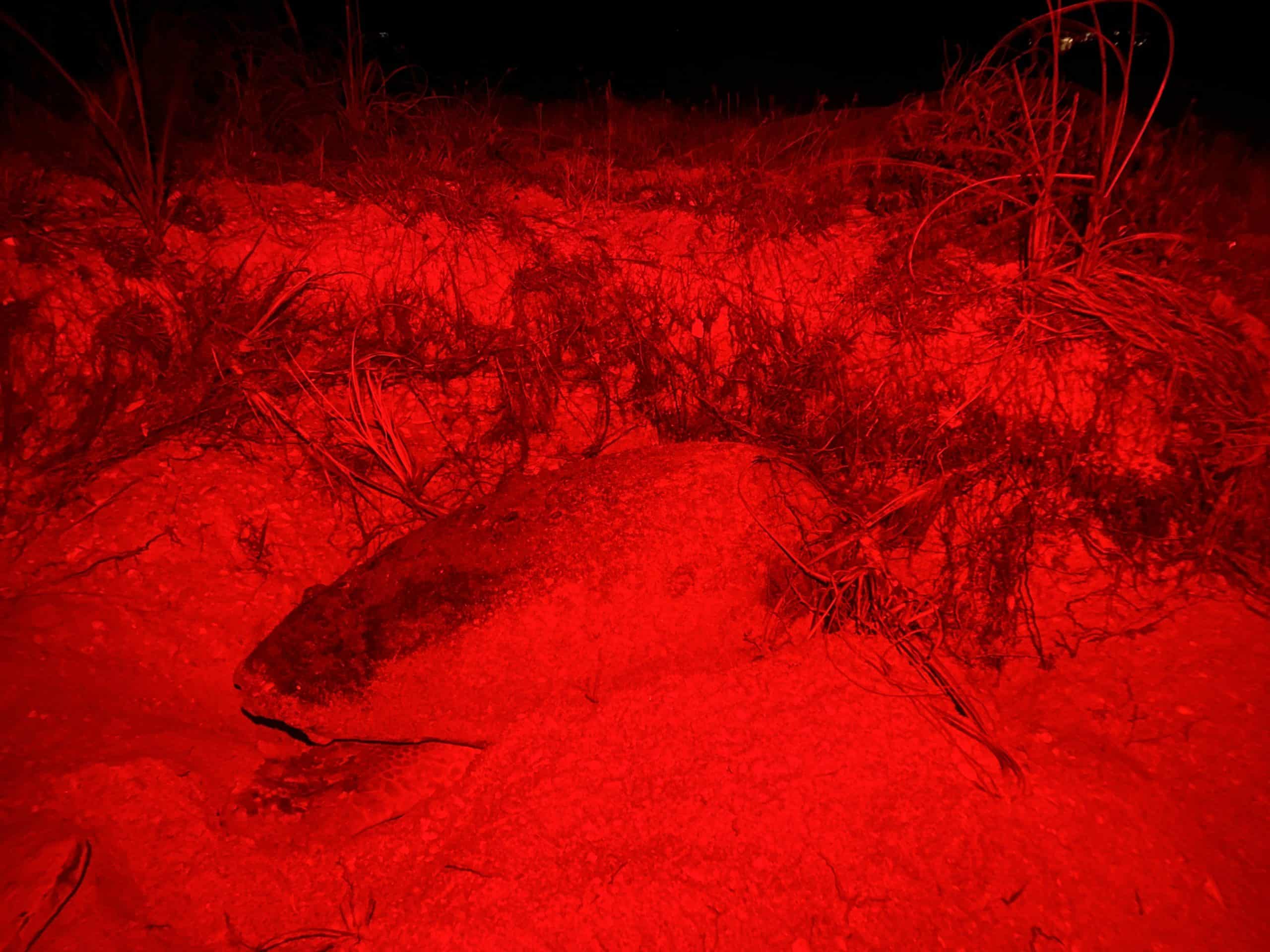 Nubbins is a special sea turtle who SCCF had the joy of encountering in May as she laid her eggs on Sanibel Island.
Named for her missing rear flipper, Nubbins was tagged last year by SCCF Sea Turtle Biologist Savannah Weber while she was a graduate student with Florida State University's Marine Turtle Research, Ecology, and Conservation Group (MTRECG).
The MTRECG team at FSU, led by Dr. Mariana Fuentes, conducts in-water monitoring in a popular sea turtle foraging habitat off the coast of Crystal River, Florida, to determine the sea turtle population structure. Each turtle encountered gets measured, weighed, and tagged. Skin samples are also collected for stable isotope analysis, which can reveal information about the turtle's diet and habitat.
These surveys in the Crystal River foraging area help assess sea turtle population size, life stage structure, and habitat use to improve their conservation and management. As part of a project by PhD candidate Ian Silver-Gorges, the group has also put temporary underwater cameras on the backs of loggerhead turtles to investigate short-term behaviors such as foraging, boat avoidance, and interactions with other turtles and species. The camera stays attached for 3-4 hours before it separates and transmits a radio signal that the group can follow for retrieval.
Nubbins was one of these turtles outfitted with a camera to document her behavior, resulting in some incredible video footage.
On May 24, Nubbins was observed nesting on Sanibel Island during a routine nighttime survey. Since 2016, SCCF has conducted night surveys from May 1 through Aug. 1 each year to tag and collect data on nesting sea turtles. Over 1,000 sea turtles have been encountered since the program's inception, providing insight into population dynamics, temporal and spatial nesting patterns, and habitat use. Read about our sea turtle program.
"Sea turtles typically exhibit site fidelity to their foraging habitats, which means they migrate to and from the same general foraging area between nesting periods," Weber said. "Thanks to SCCF and MTRECG's collaborative survey efforts, we now know where this loggerhead turtle forages and nests."
After this season of nesting, Nubbins will likely migrate back to the Crystal River foraging area where she'll stay for 2-3 years until she's ready to nest again — hopefully on Sanibel!
"Nubbins is a very special turtle indeed, and I feel so lucky to have encountered her twice – first at her foraging grounds as part of FSU, and now at her nesting site as part of SCCF," Weber said.