Stay in the know about wildlife, water quality, and ecosystems on Sanibel and Captiva Islands and in Southwest Florida
Will We See a Repeat of Toxic Summer of 2018?
March 8, 2023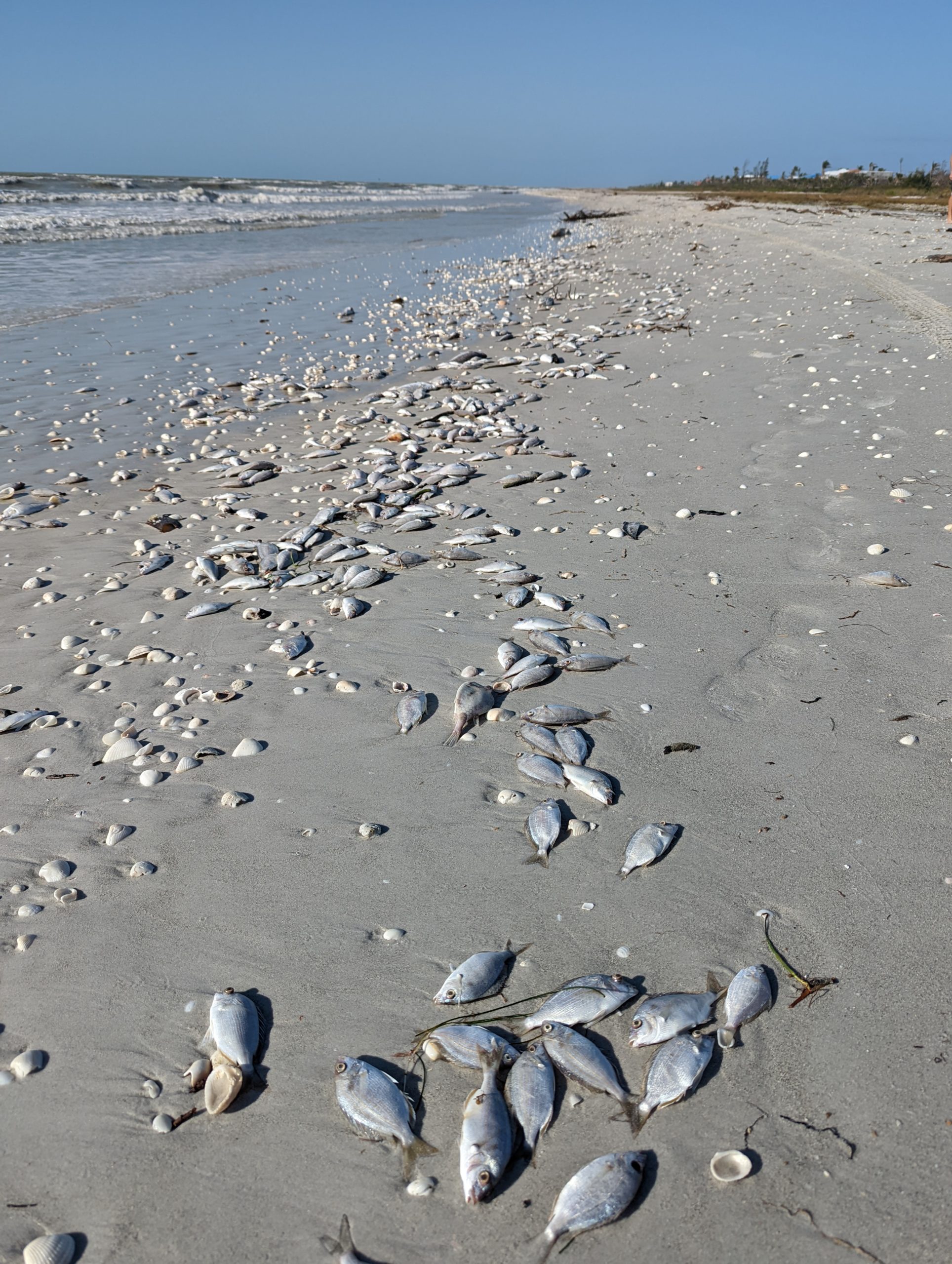 By Leah Reidenbach, SCCF Research & Policy Associate
As we enter our sixth month of having red tide plague our water, we are starting to see some of the worst effects of it washing up on our shore. This week, Sanibel residents and visitors have seen hundreds and even thousands of dead fish washing up on shore, including larger game fish such as tarpon, snook, and grouper.
These fish were found at varying stages of decomposition, which means that they've been deceased for varying amounts of time. They may have been blown in from offshore with the strong onshore winds we experienced over the weekend, indicating that the influence of red tide may be reaching beyond our coastal ecosystem into offshore water. It could also be an indication that the toxins from red tide are making their way up the food chain.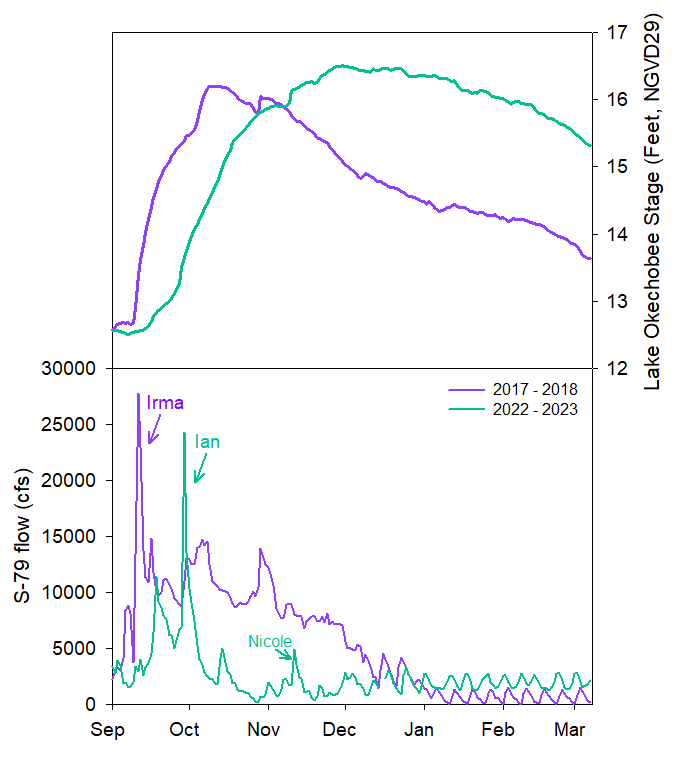 Could the pattern of high lake levels and high volume dry season lake releases after a major storm be a recipe for a disastrous red tide like we saw in 2018 after Irma? Unlike in 2018, Lake Okeechobee levels are 0.68 ft higher today, and the release strategy after the storm was executed differently.
Damaging releases, which are classified as 14-day averages > 2,600 cubic feet per second (cfs), were made to the estuary for over four months after Irma in 2017. After Ian, we received damaging flows for about six weeks.
Overall, the Caloosahatchee estuary received a volume of water from S-79 that was 2.75 times greater after Hurricane Irma than after Hurricane Ian in an equivalent time period after the storm. This additional nutrient loading is thought to be a significant contribution to the disastrous red tide event that we experienced in 2018.
In addition to high nutrient loading from Lake Okeechobee, we also received high volumes of runoff from the rain and storm surge that scoured our communities during Ian. Comparatively, the runoff and surge were less severe during Irma.
Despite slightly differing patterns between Ian and Irma, the question on many people's minds is "Will this year be a repeat of 2018?" So far it is shaping up to be similar, but only time will tell, and difficult water management decisions will need to be made to help prevent it from getting worse.
Currently, the lake is too high, and the Caloosahatchee is taking more than its fair share of water for this time of year in order to lower the lake and prevent damaging releases before the wet season begins. On the east coast, the flow structure that releases water to the St. Lucie River is closed because of sightings of blue-green algae on the lake even though the Corps schedule calls for a 7-day average of 500 cfs.
Meanwhile, releases to the south are hampered by stormwater treatment areas and water conservation areas that are too full, and agricultural lands that can't take excess water. It seems like the Caloosahatchee is once again being sacrificed while the rest of the system maintains relatively good conditions.
The Caloosahatchee ecosystem needs a break from high volume flows and nutrient loading to try to alleviate their effects on intensifying red tide. It certainly won't be the one and only solution to ameliorate red tide from our coast, but it's time that the Caloosahatchee estuary is treated equitably and receives the same considerations for harmful algal blooms that the east coast receives.