Stay in the know about wildlife, water quality, and ecosystems on Sanibel and Captiva Islands and in Southwest Florida
Weather Station at Marine Lab to Fill Data Gaps
February 18, 2023
Originally deployed in 2012, thanks to funding from the West Coast Inland Navigation District through a grant from Lee County, SCCF's River, Estuary, and Coastal Observing Network (RECON) weather stations became the first weather stations in the region located directly over the water.
"Designed to give researchers and boaters near real-time information on the current over-water weather conditions, they quickly became the go to weather source for the local boating community," said Marine Laboratory Manager A.J. Martignette.
Unfortunately, all three of the RECON weather stations were lost during Hurricane Ian, which passed over Sanibel on Sept. 28, 2022, and caused widespread damage to the area. Two of the stations, Red Fish Pass and Fort Myers, were located on wood piling channel markers, which were destroyed in the storm and have been replaced with temporary navigation buoys. The third station in the Gulf of Mexico was located on a steel pilling channel marker. While the piling survived the storm, the storm surge and 20-plus foot waves ripped off all the station components.
This week, the U.S. Coast Guard has been working in the area to replace lost channel marker pilings, and the Fort Myers and Red Fish pilings should soon be replaced. However, it will still be some time before staff are able to get the weather stations online due to the loss of the equipment.
In the meantime, a project that was in the works before Ian to upgrade a weather station located on the Marine Lab building to a RECON weather station has been completed. Located at the lab on Tarpon Bay, this new station will help fill the gap until we are able to get the other stations back online.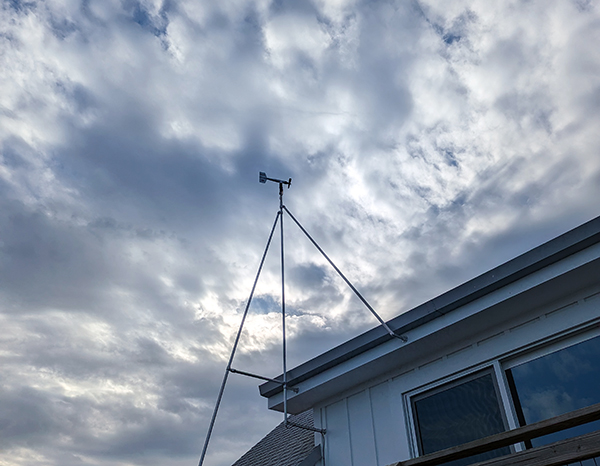 "We are currently exploring funding opportunities to replace the lost equipment and get the other stations back online as soon as possible," Martignette said. "Until then, we hope the community finds the new station useful."