Stay in the know about wildlife, water quality, and ecosystems on Sanibel and Captiva Islands and in Southwest Florida
On Feb. 6, popular wildlife biologist and TV host Jeff Corwin joined SCCF for a day of learning about our work, exploring our unique ecosystems, and presenting our 2023 Paul McCarthy Memorial Lecture.
Known for starring in ABC's "Wildlife Nation" and "Ocean Treks," among many others, Corwin is an award-winning conservationist, producer, speaker, author, and journalist. Prior to his speech at the Marriott Sanibel Harbour Resort & Spa, Corwin spent some time interacting with SCCF staff on our research vessel, the Norma Campbell. The group ventured to Captiva to look for the rare Eastern Indigo Snake (Drymarchon couperi) — which SCCF biologists routinely track and monitor — and anchored at Hemp Key to bird watch and discuss SCCF's restoration efforts over lunch.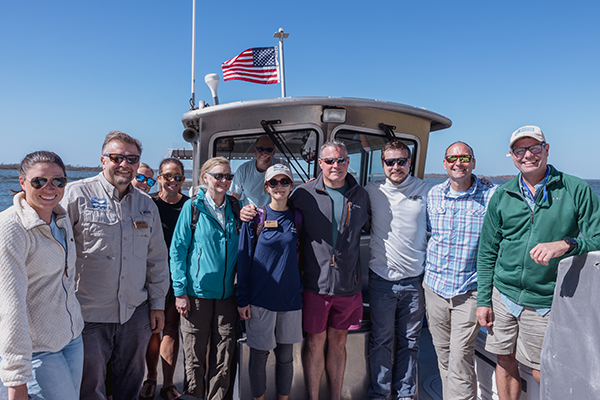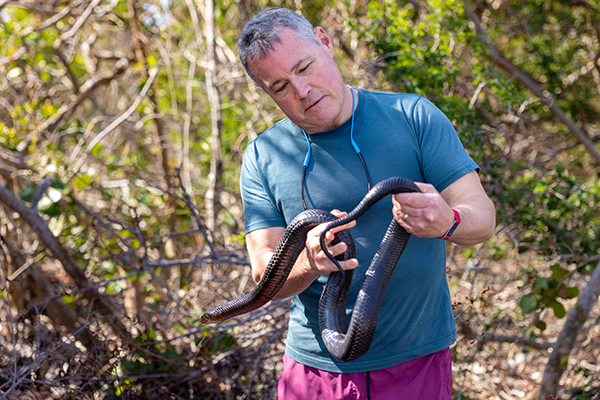 Corwin's talk in the evening drew in over 200 attendees, and the event was also live-streamed on Zoom. He discussed how he became interested in wildlife as a young child watching garter snakes, relived his emotional experiences with elephants over the years, and emphasized why Florida is such a unique and important state for conservation and land preservation.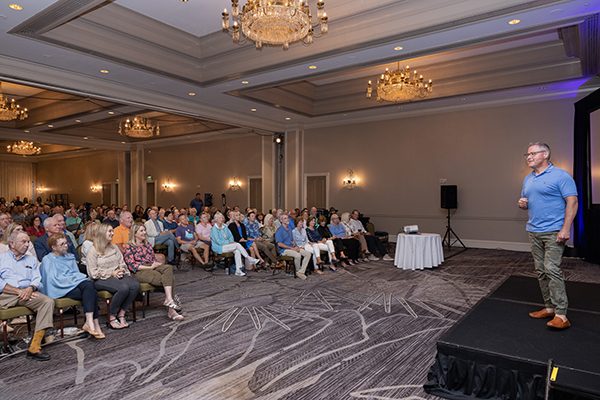 The event was followed by an audience Q&A and staff dinner.
SCCF's Paul McCarthy Memorial Lecture Series was conceived by the Boler Family Foundation, which underwrites the series to honor their dear family friend. Paul McCarthy was the founder of Captiva Cruises, an SCCF Trustee, and an active presence on the islands for many years.