Stay in the know about wildlife, water quality, and ecosystems on Sanibel and Captiva Islands and in Southwest Florida
SCCF Applauds Herbert Hoover Dike Improvements
January 25, 2023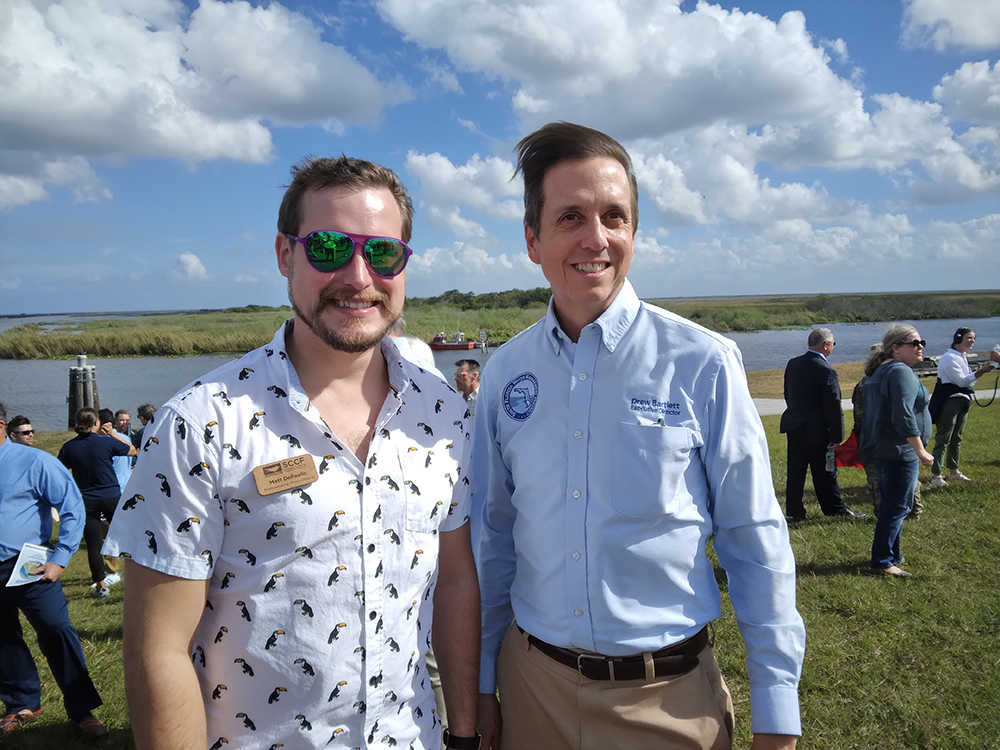 On Jan. 25, SCCF Environmental Policy Director Matt DePaolis attended a ribbon cutting for the newly rehabilitated Herbert Hoover Dike.
The Herbert Hoover Dike runs around most of Lake Okeechobee, stretching 143 miles. It was constructed after a hurricane in 1928 flooded the towns south of the lake, killing thousands of people. Since its construction, it has allowed the U.S. Army Corps of Engineers to direct water out of the Lake through controlled releases to the Northern Estuaries (St. Lucie and the Caloosahatchee), Agriculture Areas, and south to the Everglades.
Environmental Policy Director Matt DePaolis enjoying Lake Okeechobee with the Executive Director of the South Florida Water Management District Drew Bartlett.
The recently completed rehabilitation projects replaced 56 miles of cutoff wall and 28 water structures called culverts, which will allow the Corps to utilize more storage potential in the lake and help protect the towns south of it, contributing to and building upon other restoration efforts throughout Southwest Florida.
"After all the work that has gone into the new Lake Okeechobee Systems Operating Manual (LOSOM), it is great to see some necessary components come online," DePaolis said. "The added storage component in the lake will allow the Corps and South Florida Water Management District to use the operational flexibility built into the plan."
LOSOM, the new set of management guidelines that will structure how Lake Okeechobee's water is used, is set to be released in June and will hopefully result in fewer damaging flows to the Caloosahatchee Estuary.
"The amount of support for this project from our elected and tribal leaders, business community, and environmental groups is truly heartening. This is one step forward in one of the largest environmental restoration efforts in the world — restoring the Everglades — and as more projects come online, we move closer to the greater goal of sending water south to the Everglades," DePaolis added. "Once we can send clean water south and not dump polluted water into the Caloosahatchee, we will also be able to make great progress to clean up our Northern Estuaries."