Stay in the know about wildlife, water quality, and ecosystems on Sanibel and Captiva Islands and in Southwest Florida
Red Tide Documented Off Sanibel and Captiva
January 25, 2023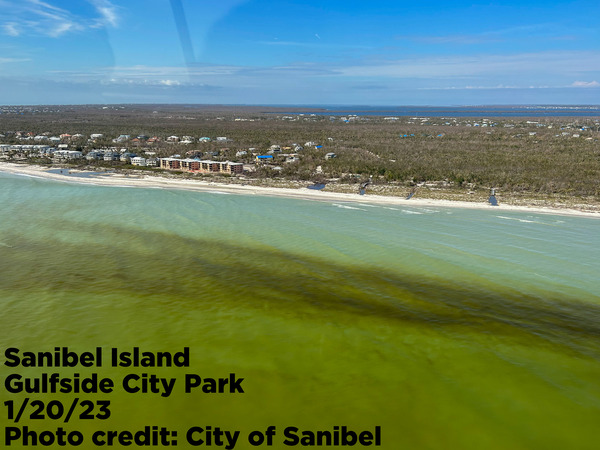 Recently, there have been reports of red tide blooms around Sanibel as well as fish kills and respiratory irritation. The City of Sanibel documented reddish, discolored water in the Gulf of Mexico off the coast of Sanibel and Captiva Islands as well as dead mullet washing ashore near Lighthouse Beach Park.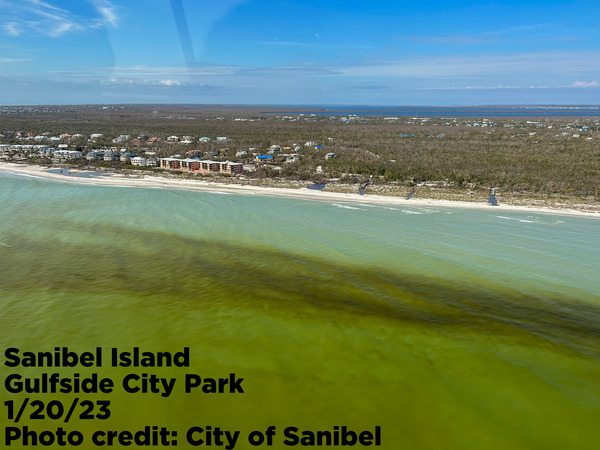 "It's difficult to predict how long and how severe a red tide bloom will be, and this is just the beginning signs of a bloom that is increasing in intensity," said SCCF Research & Policy Associate Leah Reidenbach. "Offshore winds predicted in the next week may help push the bloom offshore."
For the past seven weeks, the Caloosahatchee has been receiving an average of 1,906 cubic feet per second (cfs) from the W.P. Franklin Lock and Dam (S-79) with 73% of the water coming from Lake Okeechobee. Additionally, with the exception of four days of stressful high flows, 14-day average flows have been in the optimum flow envelope for maintaining a healthy salinity gradient for oysters and seagrass.
"During this time, we also experienced relatively good water quality, with continual improvement in water clarity — as demonstrated with the Lighthouse Beach Park aerial imagery — and low levels of the red-tide-forming alga Karenia brevis in Lee County," said SCCF Policy & Research Associate Leah Reidenbach. "Now, the tides may be turning."
The Florida Department of Health in Lee County (DOH-Lee) issued health alerts for the presence of a red tide bloom near Alison Hagerup Beach Park on Captiva and at Lighthouse Beach on Sanibel in response to water samples taken on Jan. 18.
"If you are experiencing respiratory irritation due to red tide, a mask can help reduce your exposure to aerosolized toxins produced by Karenia brevis," she said.
Learn more about red tide on the SCCF red tide resources webpage which provides links to research, daily status maps, forecasts, Department of Health information, and more.
"In addition to local water quality issues, we are keeping our eye on Lake Okeechobee levels," said Reidenbach. "Lake O is at 16.12 feet, which is over one foot higher than it was last year. It's too high for maintaining optimal ecology of the Lake's ecosystem, which can have ripple effects across the entire region now and into the future."
To address high lake levels, the U.S. Army Corps of Engineers started increasing flows to the St. Lucie Estuary to 500 cfs average and to 100 cfs in the Lake Worth Lagoon earlier this week. Flows to the Caloosahatchee will remain the same at 2,000 cfs at S-79. Further, they will be maximizing flows to the Everglades Agricultural Area as drier conditions increase demands for water supply.
Sign up for the SCCF Weekly Water Conditions Update, which is delivered via email every Friday morning, to keep up with water quality. Below is SCCF's aerial water quality drone shot from Lighthouse Beach taken on Jan. 24.