Stay in the know about wildlife, water quality, and ecosystems on Sanibel and Captiva Islands and in Southwest Florida
Sanderling from Peru Sighted on Sanibel
January 9, 2023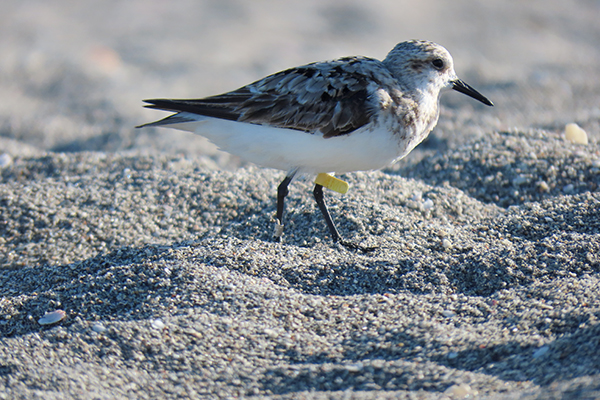 As the chaos of hurricane disaster recovery continues to dwindle, our shorebird team is back in the office reviewing data from the last year. They recently confirmed a sanderling (Calidris alba) encountered on Sanibel late last summer is from Peru!
At the time they resighted this sanderling (known by its band code, 4MC), it was halfway home to its wintering grounds in Peru. After breeding in arctic Canada during the summer, many sanderlings begin their southward migration on a journey that can range anywhere from 1,800 to over 6,000 miles.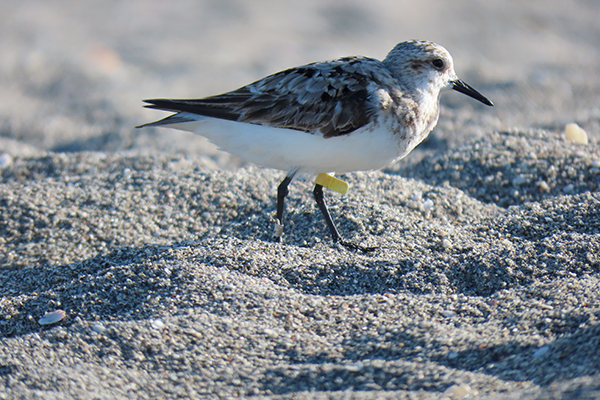 "Thanks to the Paracas Shorebird Project, we know that sanderling 4MC travels to and from South America for the wintering and breeding season, respectively," said SCCF Shorebird Technician Aaron White. "It was banded as an adult in Peru, in February 2018, making this bird at least 4 years old. This is the first ever banded bird that our shorebird team has ever resighted from Peru."
Not all sanderlings journey all the way to South America. Sanibel is home to a couple of winter resident sanderlings, known as P03 and T93, that complete their southern migration once they reach Sanibel. Some nonbreeding individuals remain at their wintering grounds throughout the year to avoid wasting energy traveling north, so sanderlings can also be found year-round on many beaches across North America, including on Sanibel and Captiva.
The Paracas Shorebird Project has been banding shorebirds at the Paracas National Reserve in Peru for the past seven years. The project has banded over 6,000 individuals of many shorebird species, including the semipalmated sandpiper (Calidris pusilla), western sandpiper (Calidris mauri), sanderling, and semipalmated plovers (Charadrius semipalmatus), which can all be found in southwest Florida.
"Obtaining this resight information gives researchers at the Paracas Shorebird Project insight into the migratory patterns of their banded birds," White said. "The SCCF shorebird team thanks the Paracas Shorebird Project for getting this bird's information to us and hopes to see more Peruvian shorebirds in the future!"