Stay in the know about wildlife, water quality, and ecosystems on Sanibel and Captiva Islands and in Southwest Florida
Box Turtle Returned Home to Sanibel
December 21, 2022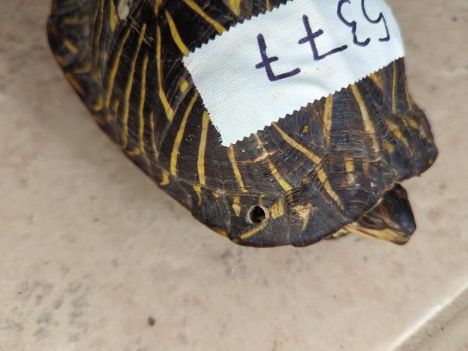 In 2002, the SCCF Wildlife and Habitat Management Program began a mark-recapture/population study of the Florida box turtles (Terrapene bauri) on Sanibel and Captiva. The importance of SCCF's data reached critical mass when poachers connected with the largest turtle trafficking ring in Florida history were arrested and convicted in 2019.
"Our Sanctuary Island was not immune to the global pressures placed on turtles today. Countless quantities of several species of turtles were illegally poached from Sanibel and other nearby areas to be smuggled overseas," said SCCF Wildlife Biologist Mike Mills.
However, sometimes natural losses of turtles can occur, such as from wildfire, drought, and tropical storms. Hurricane Ian was a major factor for turtles on Sanibel and Captiva due to the extreme storm surge event that inundated freshwater areas with salt water.
"Undoubtedly, some turtles were likely swept out of their usual areas due to flooding and currents and there were likely some drowning events of more terrestrial species," said Mills. "Turtles can rebound from these natural disaster events if enough animals and habitat remain, and these events are not too frequent."
Habitat loss due to development and overcollecting — especially of adult turtles — are mostly fatal to a population due to the reproductive strategy of certain turtles, like box turtles, which produce few young annually over a long-life span.
On Nov. 29, 2022, an SCCF-marked box turtle was found and rescued from a canal in Cape Coral, north of the mid-point bridge, and brought to CROW. They brought the turtle back to SCCF for release on Sanibel shortly after.
SCCF research turtles are not hard to identify as they have holes in the marginal scutes representing a unique number. They also have an internal microchip like in cats and dogs. And, their shell patterns are photographed to help distinguish their uniqueness. By doing this, invaluable data can be acquired and used to get population estimates, survival rates, and growth rates for our population which contributes significantly to the conservation of this species.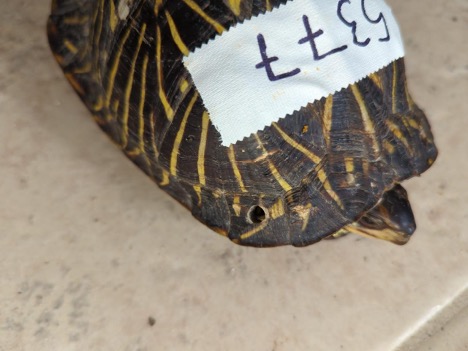 The visible holes on the carapace of the turtle also act as a deterrent for poaching as the animal's true origin can be determined, such as being illegally captured on an island where all turtles are protected by law, which adds risk to the poacher.
SCCF's records indicated that the turtle was about 14 miles away from its last known location on Sanibel. How did it get there?
"It's difficult to determine whether this turtle was swept away to Cape Coral by storm surge or relocated by an individual," said Mills. "We may never know, but it does highlight the importance of our mark-recapture study, as the turtle was returned to the island."
To find out more about our research and to report marked and unmarked box turtles on Sanibel and Captiva, click here.