Stay in the know about wildlife, water quality, and ecosystems on Sanibel and Captiva Islands and in Southwest Florida
SCCF Shares Legislative Priorities with Delegation
December 13, 2022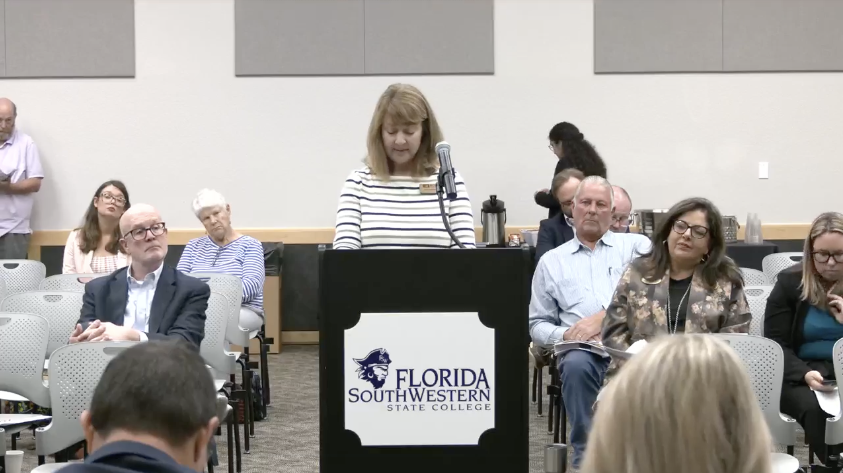 On Dec. 7, Policy Associate Holly Schwartz presented 2023 priorities to the Lee County Legislative Delegation, highlighting SCCF's commitment to fighting for clean water, a healthy environment, and a resilient future.
Overall, SCCF expects to stand up against bills that will weaken protections for vulnerable ecosystems, greenwash coastal development through seagrass mitigation banking, and remove incentives for individual rooftop solar.
"We expect 2023 will be an active legislative session," said Schwartz. "SCCF is excited to work with our partners, stakeholders, and supporters to make it successful for Southwest Florida."
In her presentation, she recognized that one of the most important focuses of the upcoming session would be hurricane recovery efforts.
"As one of the hardest hit areas in Lee County, SCCF strongly maintains that a healthy natural environment is the best defense against storm impacts," Schwartz told the legislators. "Our general legislative efforts will continue to prioritize conservation, resiliency, ecosystem restoration, water quality, the prevention of harmful algal blooms, and the protection of home rule."
Click here to watch her presentation, which appears at 2:08:41 in a FB Live video produced by WGCU Public Media at Florida SouthWestern State College.
Below are the legislative priorities that SCCF submitted to the delegation for review:
Conservation
SCCF supports statutorily dedicated funding for the Florida Forever conservation and recreation lands program. Land conservation is critical for supporting Florida's tourism and nature-based economy.
Resiliency
SCCF supports protections to net metering and other incentives to the implementation of roof-top solar for individuals
SCCF supports the monitoring of the implementation of the Resilient Florida Program to ensure that grant funding is being spent thoughtfully on solutions to climate change
SCCF continues to support a ban on oil drilling in the Gulf of Mexico and a transition to energy sources that will reduce greenhouse gas emissions.
Ecosystem Restoration
SCCF supports continued funding to complete the construction of the C-43 reservoir and water quality treatment component. This project is essential for restoring clean freshwater flows to the Caloosahatchee estuary.
SCCF supports prioritizing funding and expediting the Everglades Agricultural Area Reservoir and Stormwater Treatment Area. The EAA Reservoir Project is critical for reducing the damaging high-volume discharges to the Caloosahatchee and St. Lucie estuaries and rehydrating the Everglades.
SCCF supports funding for the Lake Hicpochee Phase II Project. The project includes construction of a Flow Equalization Basin (FEB) that will provide an estimated 9,000 acre-feet of shallow storage for local stormwater and Lake Okeechobee regulatory releases that would otherwise go into the Caloosahatchee Estuary.
SCCF supports full funding for Everglades restoration to keep projects on track with the Integrated Delivery Schedule (IDS). Everglades restoration is essential to improve the health of the Caloosahatchee.
Water Quality
SCCF supports updating statewide stormwater standards for development to reduce runoff of pollutants such as nitrogen, phosphorus, and suspended solids to protect water quality.
SCCF supports robust permitting for development in wetlands, coastal high-hazard area, and other sensitive locations to ensure that adequate protections remain in place for natural resources.
Harmful Algal Blooms
SCCF supports the implementation and funding of the Blue-Green Algae Task Force recommendations to address nutrient sources and innovative technologies to mitigate blooms.
SCCF supports FWC's Harmful Algal Bloom Task Force and funding for research and monitoring of red tide and other harmful algal blooms in Florida's coastal waters.
SCCF supports the reduction of anthropogenic nutrients into our waterways through voluntary programs such as BMPs and Septic to Sewer Conversions, as well as enhanced regulatory protections for our waters.
Protection of Home Rule
SCCF supports Home Rule and opposes any statewide pre-emption policies that would restrict the ability of local governments to regulate land use and protect natural resources.
The 60-day 2023 Florida legislative session starts on March 7 and runs through May 5, 2023. As in years past, SCCF will provide bill tracking and analysis through our Legislative Tracker.