Stay in the know about wildlife, water quality, and ecosystems on Sanibel and Captiva Islands and in Southwest Florida
Shorebird Numbers Increase on Sanibel and Captiva
November 28, 2022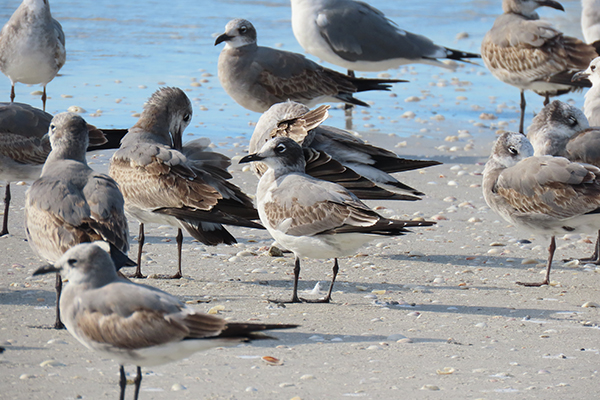 November's monthly shorebird surveys on Sanibel and Captiva revealed a noticeable spike in total bird numbers, as well as a slight increase in species diversity compared to October's surveys. In October, just under 2,000 individuals and 24 species were observed. This month, the SCCF shorebird team observed 4,734 individuals and 27 species.
Compared to the previous five November surveys, total numbers of individuals have returned to their normal levels. This year's count is the second highest number of individuals recorded in November in the past five years. The increase is partly due to many birds making their way south to their wintering grounds.
"One species of particular note that was observed this month is the Franklin's gull (Leucophaeus pipixcan), which is usually documented at least once on our surveys over the winter season," said SCCF Shorebird Technician Aaron White.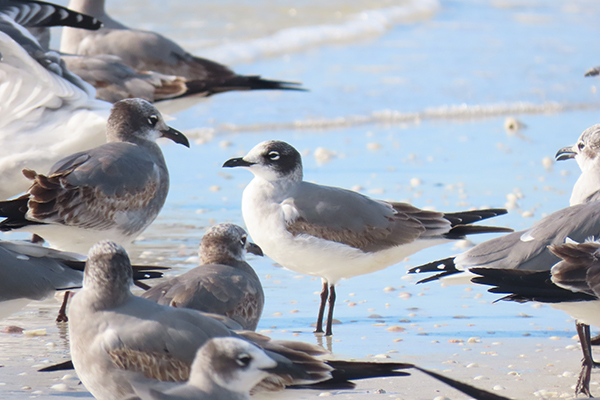 Franklin's gulls are most easily distinguished from similar looking laughing gulls (Leucophaeus atricilla) by their smaller overall size, smaller bill, and thick white eye ring, White said. These birds primarily nest in freshwater marshes across the central provinces of Canada and some parts of the north-central U.S.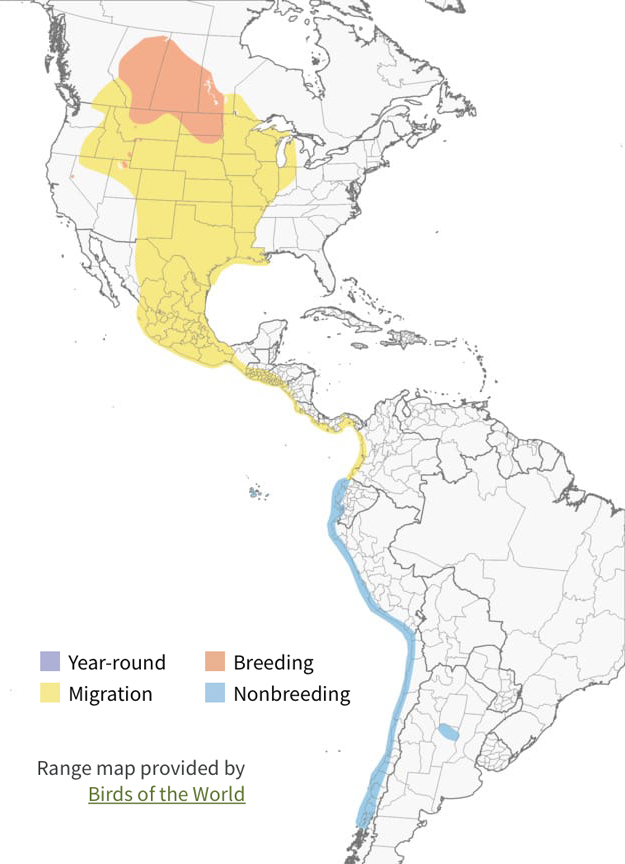 After nesting season, Franklin's gulls migrate 4,000 to 7,000 miles — one of the longest migration distances among gull species — down the Central Flyway to spend their winters on the western coastline of South America.
"Although Florida's not along their usual route, small numbers of Franklin's gulls are seen in the state while on their migratory journey," White said. "One possible reason they turn up outside their primary migration route could be the effect of weather."
Winds and storms that occur within the central U.S. can cause migrants to go off course and seek clearer conditions elsewhere. In 2015, a west-to-east moving low pressure system with tropical storm force winds caused a massive fallout of Franklin's gulls on the east coast of the U.S. During the event, flocks of 60 or more Franklin's gulls were spotted in some areas — a rare sight to see on this side of the country.
Franklin's gulls are known to be social during migration, often mixing with large flocks of other gull and tern species.
"Keep your eyes peeled for the Franklin's gull next time you stumble across a shorebird flock — just be sure to give them plenty of space to regain their energy for their journey farther south," White said.