Stay in the know about wildlife, water quality, and ecosystems on Sanibel and Captiva Islands and in Southwest Florida
Staff Making a Difference for SCCF Volunteers
November 8, 2022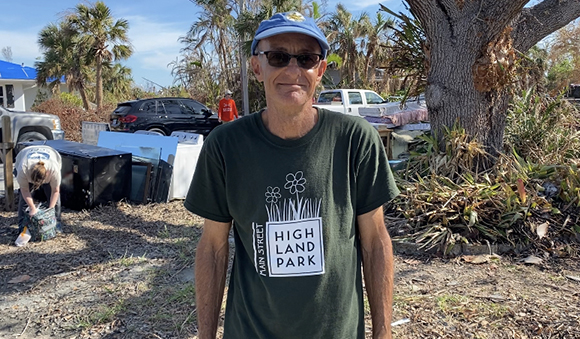 Since Hurricane Ian, SCCF staff have helped 17 of our dedicated volunteers with their personal hurricane cleanup needs such as clearing debris and vegetation, cleaning out furniture and muck, and tree work.
For SCCF volunteer Ira Grasgreen, the timely assistance meant the world.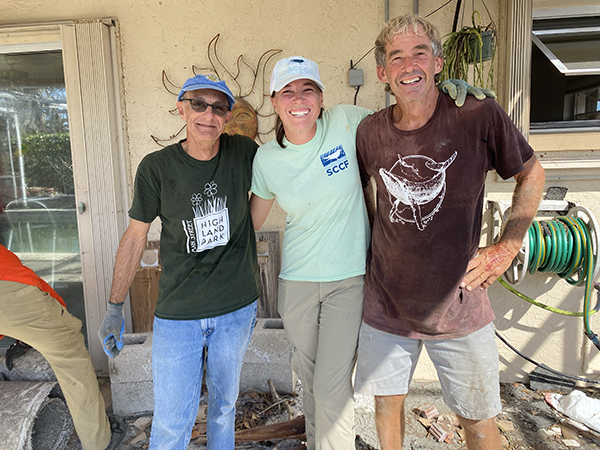 From left: Ira Grasgreen, SCCF Coastal Watch Director Kealy McNeal, and SCCF Research Associate Mark Thompson.
"I've been part of Sanibel for 47 years. In addition to family ties, I lived here in the 80s, and just became a full-time resident again five years ago," said Grasgreen, surrounded by debris and a mud-soaked lanai and pool room. "I really want this to be my future home."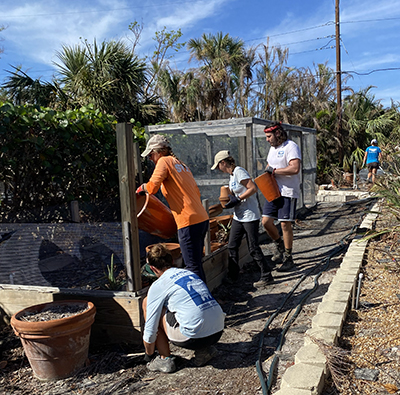 Fallen plants and broken pots also scattered the landscape — just remnants of the many plants Grasgreen cared for as a plant enthusiast and professional who sells plants to nurseries and greenhouses. SCCF staff helped sort and clean up the fallen pots and vegetation, remove shingles strewn about the yard, rip up destroyed carpet, and carry large items to the curb.
"When SCCF sent out an email offering us help, I started to cry because everybody is just wonderful," Grasgreen said. "I've really enjoyed volunteering for SCCF and Coastal Watch, and I can't wait to eventually do it again."
"There was no hesitation for us to help our volunteers in their time of need," said SCCF Coastal Watch Director Kealy McNeal. "They continually give back to us and make large-scale projects possible that we wouldn't otherwise have the manpower for as a small nonprofit."