Stay in the know about wildlife, water quality, and ecosystems on Sanibel and Captiva Islands and in Southwest Florida
Red Tide Blooms as Research Cruise Ends
October 28, 2022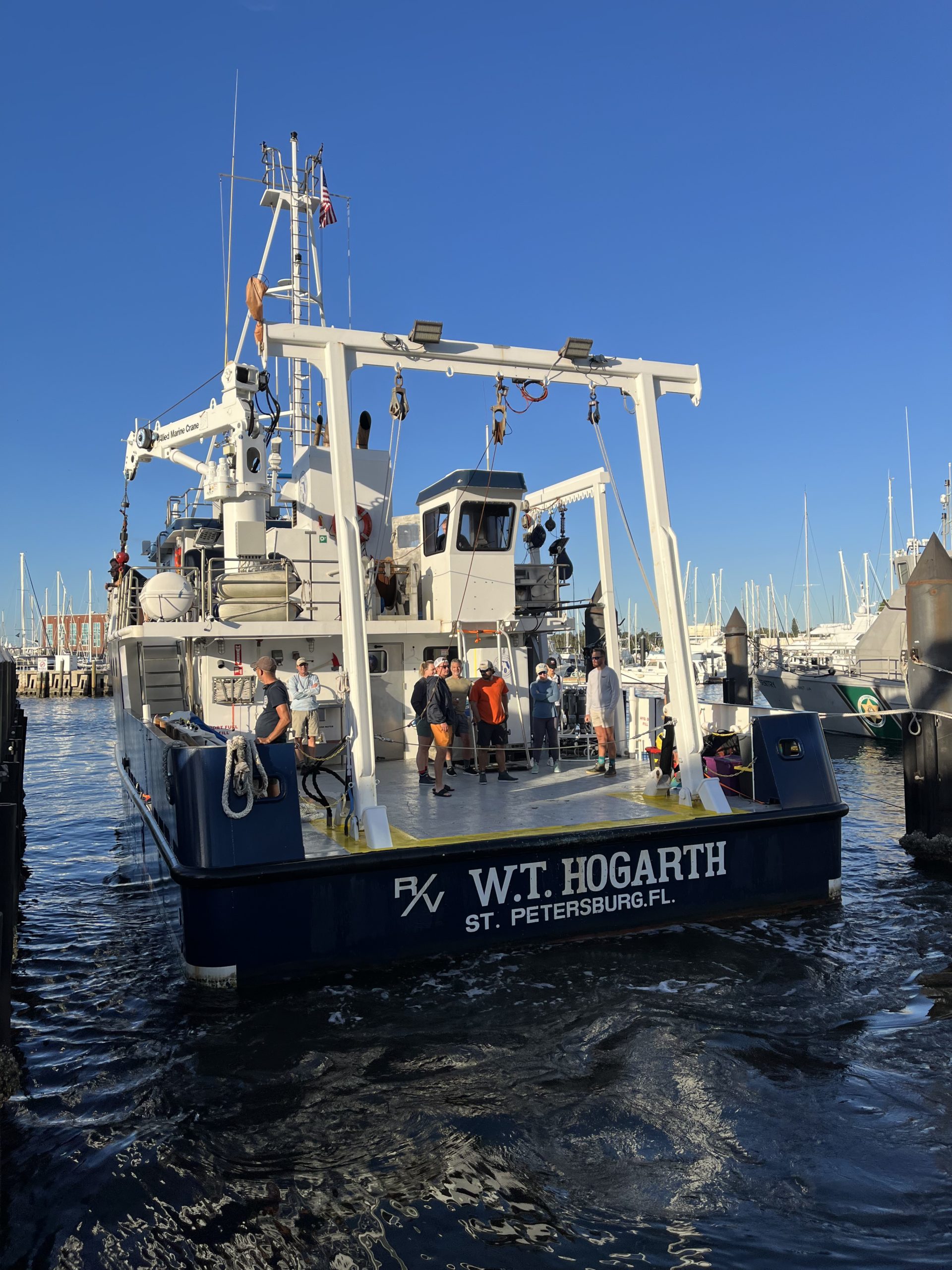 Earlier this week, a research cruise organized by the Florida Institute of Oceanography (FIO) came back to port in St. Pete after documenting post-Hurricane Ian water quality conditions, as well as impacts to artificial reefs and bottom habitats down to Naples.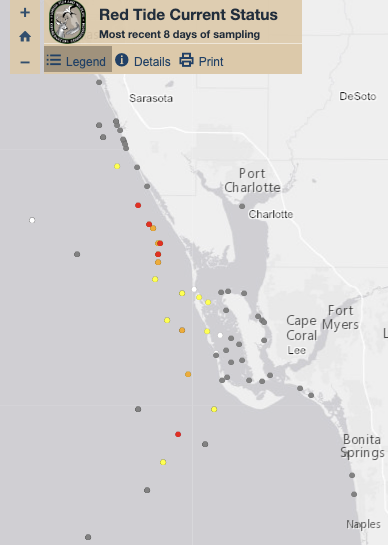 Researchers from SCCF and FGCU sampled about 50 sites located 2 to 12 miles off the Southwest Florida Gulf coast. They discovered discolored areas that have since been confirmed as red tide blooms by the Florida Fish & Wildlife Conservation Commission (FWC). As of today, high counts of Karenia brevis, the dinoflagellate that causes red tide blooms, have been found offshore Punta Gorda, Boca Grande, and southwest of Sanibel.
Medium counts have also been documented off North Captiva and Captiva Islands, with low counts at Cayo Costa, where Hurricane Ian made landfall on Sept. 28. Low counts are also evident as far north as Manasota Beach and south to 32 miles offshore Wiggins Pass in Collier County.
"The bloom is more widespread than FWC samples indicated yesterday and continues to extend south," said SCCF Marine Lab Director Eric Milbrandt, Ph.D., who was aboard the six-day cruise. "We were able to characterize nearshore ocean conditions before the bloom but after Hurricane Ian, which will help us better understand red tide blooms."
Sanibel & Captiva Islands Chamber of Commerce board chair Calli Johnson, whose family founded Bailey's General Store on Sanibel — a longtime partner of SCCF — more than a century ago, was also aboard the cruise as a safety dive officer for FGCU. Her role was to document the underwater habitat.
"While diving in our southwest Florida local waters, it is devastating both above and underwater. Artificial reefs that are 30 miles offshore are substantially affected by the hurricane," said Johnson. "The one-time vibrant reefs are now underwater disaster sites themselves. Where there used to be a complete ecosystem, there are now only fish that were able to return after swimming away."
As the youngest-ever board chair of the Chamber, Johnson has a unique perspective on the significance of what she witnessed at sea and what it means for future generations.
"There are inspiring signs of life, for example, many of our favorite recreational fish are abundant, but the greater systems that support those fish were heavily affected," she said. "Time will tell how this affects our greater economy, because changes in the fishing industry and tourism will come from changes in our underwater world."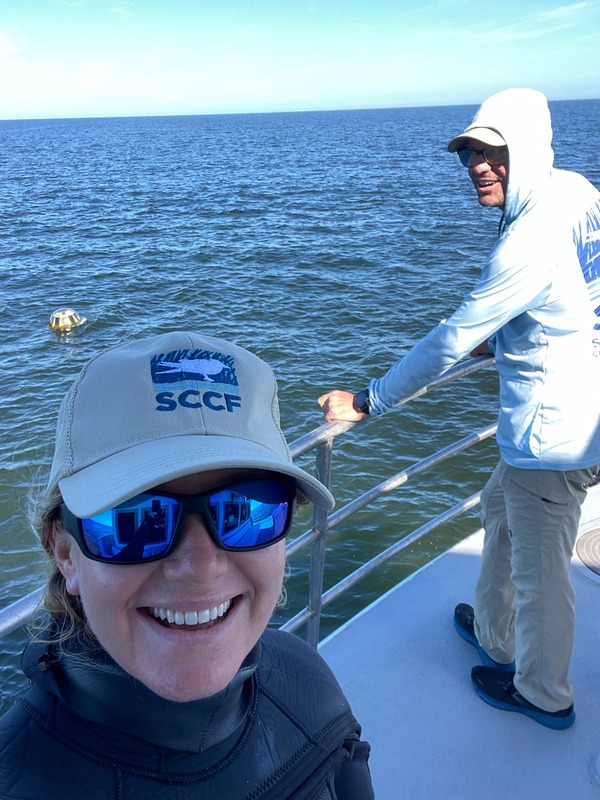 Milbrandt says it will be a few weeks before the SCCF Marine Lab, which still does not have power, is able to fully analyze the water sampling results and determine the extent of low oxygen areas that can lead to further degradation of sea life.
The cruise was also able to locate the SCCF River, Estuary, Coastal Observing Network's (RECON) wave buoy, pictured here, which was knocked off its mooring offshore Blind Pass during the hurricane after recording a 24-foot wave.
"We lost it for a few days after the storm and then mid-week after, it started broadcasting again about a mile from where it should have been," said Milbrandt. "Calli and her dive team inspected it and determined that it was safe to leave it where it was. We then retrieved it this week with the R/V Norma Campbell."
As has been true for community spirit throughout our islands in the aftermath of Ian, researchers from different organizations selflessly worked together on the research cruise for the good of the overall ecosystem.
"The experience was inspiring for several reasons. The group of scientists was able to collaborate on a level that is hard to find because the extreme devastation we all have experienced personally and professionally allowed us to set aside any potential barriers to collaboration," said Johnson. "The FIO crew was extremely professional and knowledgeable about the scientific collections that needed to be made."