Stay in the know about wildlife, water quality, and ecosystems on Sanibel and Captiva Islands and in Southwest Florida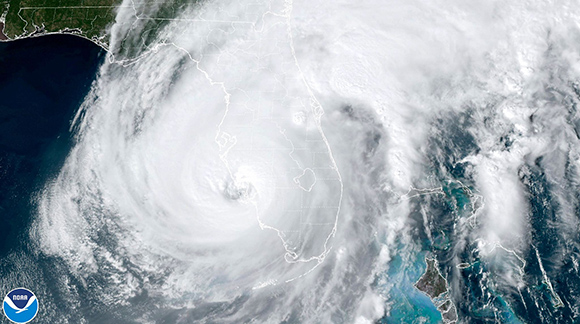 Today marks four excruciatingly long and painful weeks since Hurricane Ian ravaged all that we cherish on our islands and in the communities and ecosystems of Southwest Florida. We are facing the most challenging times in SCCF's 55-year history — trying to ensure our organization is whole, our staff is fully employed, and our facilities are built back better — all while doing whatever we can to restore our island community and help every neighbor who asks for SCCF staff assistance.
As SCCF staffers have moved from supporting first responders in search and rescue efforts to what is now the long period of recovery, this seems a good day to mark what we know and what we don't know since our world was rocked on September 28, 2022.
What We Know
We are Safe, Strong, and Resilient – Despite everything, there is a widespread commitment to helping each other. It can be seen playing out in countless ways every day. Despite their own housing destruction and displacement to temporary arrangements, our team members are trying to help everyone who needs us, without forsaking their commitment to SCCF's mission-driven work.
We are Dedicated to Understanding Ian's Impacts – With the help of our partners at the University of Florida, Florida Gulf Coast University, the Florida Institute of Oceanography, and others, we have been surveying the storm's impact on water quality and human health and safety, practically since the moment of landfall. We are monitoring migratory and native wildlife and assisting CROW and the Conservancy of Southwest Florida by identifying and transporting the injured. Islanders have stood strong in their commitment to our beloved nature by enthusiastically responding to our request for wildlife sightings. We've heard of many species that survived, including bobcats, osprey, pelicans, box turtles, monarch butterflies, rat snakes, a great horned owl, alligators, gopher tortoises, pileated woodpeckers, dolphins, manatees, and bald eagles.
We are Eager to Share and Be Together – We are revamping our programs to include post-Ian findings and recommendations for our shared future as coastal dwellers. Our Sea School educators are eagerly developing off-island programming to post-traumatically reinforce children's love of the ocean and joy in the natural world around them.
We are Finding Strength in Numbers – We are regularly meeting with the islands' nonprofit leadership, providing ways to share resources and tackle common challenges together.
What We Don't Know
We Don't Know Ian's Financial Impact on SCCF – Like everyone, there is damage throughout our facilities, with four being unsalvageable. It seems increasingly clear that the fun events we rely on to raise 10% of our operating income will be impossible to hold for the coming season.
We Don't Know Ian's Financial Impact on Our Supporters – Our hearts bleed for the damage and trauma our neighbors have sustained, and the ensuing costs insurance may not cover. Islanders' personal gifts amount to approximately half of our annual budget. We just don't know if that level of past generosity will be possible for the coming year.
We Don't Know Where You Are – Thanks to a grant from Bank of the Islands/Edison National Bank, we would like to print and "snail mail" SCCF's annual report to our members. It will share the accomplishments of the fiscal year that ended on June 30. It will also have a special insert to address the hurricane. If you are in temporary housing or at a different address than where you'd normally be in November/December, please let us know by emailing ARaddress@sccf.org.
For supporters interested in helping SCCF through this unprecedented chapter in our history, please consider making an unrestricted tax-deductible donation using the link below. It will be used to address our greatest immediate needs. As we learn of the unmet needs of other island nonprofits, we will do what we can to redirect donations to them as well.
If you have questions, including information on our bank wiring instructions and making a donation of stock shares, please contact SCCF Development Director Cheryl Giattini at 239-822-6121 or cgiattini@sccf.org. Also, please remember that the island post offices are not functioning and SCCF's temporary mailing address is PO Box 101130, Cape Coral, FL 33910. Thank you in advance for your consideration of this heartfelt request.