Stay in the know about wildlife, water quality, and ecosystems on Sanibel and Captiva Islands and in Southwest Florida
Research Cruise Investigating Post-Ian Conditions
October 18, 2022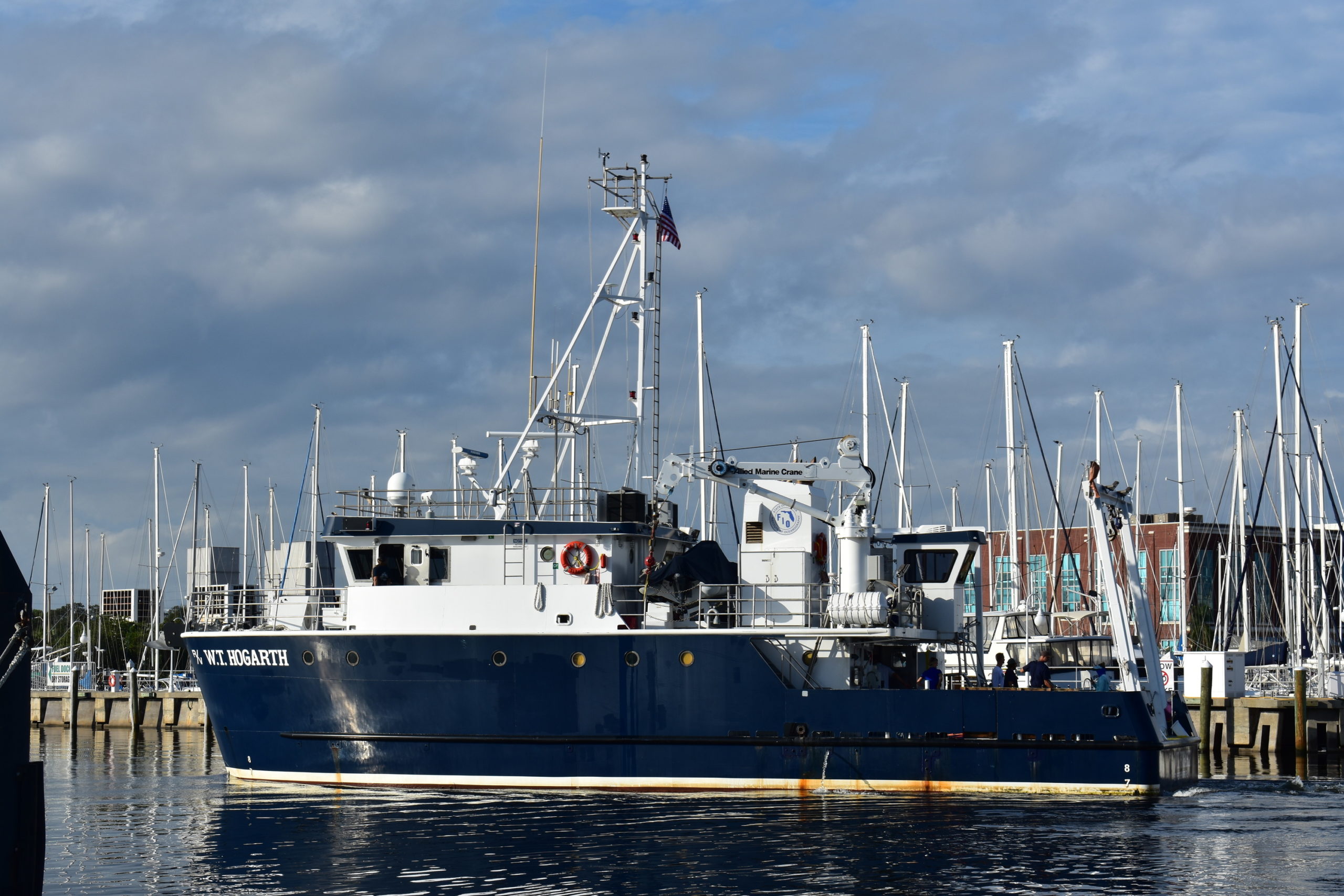 SCCF Marine Lab Director Eric Milbrandt, Ph.D., is aboard a collaborative research cruise organized by the
Florida Institute of Oceanography
(FIO) that set sail from St. Pete this morning to evaluate water quality conditions in the wake of Hurricane Ian.
"There has been a pattern over the last 20 years that long and intense red tide blooms can occur after the landfall of major hurricanes. It happened the year after Charley and Irma," said Milbrandt. "The oceanographic conditions preceding any bloom event give us clues to the sources of nutrients and the phytoplankton communities. We also will be looking for hypoxia and other unusual conditions."
On the 7-8 day cruise, scientists and researchers are sampling about 50 offshore sites from St. Pete to Naples to investigate the potential development of a red tide bloom due to Hurricane Ian's epic floodwaters. Red tide blooms typically occur in Florida in the fall, and hurricanes are suspected to play a role in stimulating blooms. The heavy rainfall and flooding cause land-based nutrients to flow outward to coastal waters and blooms feed off those nutrients.
The researchers, including scientists from FGCU's Water School, will be on call 24/7 on the FIO's 78-foot R/V Hogarth, which has berths for 10 scientists and a wet and a dry lab. Aside from sampling, they will also be retrieving some equipment displaced by the Cat. 4 hurricane by utilizing dive teams.
Sanibel & Captiva Chamber of Commerce board chair Calli Johnson, a fourth-generation co-owner of Bailey's General Store, is on the cruise as one of FGCU's dive safety officers. She is pictured here with Milbrandt as the cruise ventured out to sea today.
"I am excited to document the changes caused by Hurricane Ian to our local waters. It's important to me from a scientific perspective as well as from a business standpoint; when our waters are healthy that means positive changes for our tourism-based economy and for the fishermen on our waters daily," said Johnson.
In organizing the cruise, FIO capitalized on its partnerships across the state, with members stepping up to provide data, logistical support, equipment, and scientific supplies to FGCU and SCCF.
"Like FIO's response to the Piney Point discharge event, the deployment of resources to the areas impacted by Ian shows the importance of our state-supported mission. We are focused on bringing the best science capabilities of Florida's universities and organizations to the forefront of these coastal ecosystems to better understand the storm's overall impact," said Dr. Monty Graham, director of FIO.
Data collection will focus on water quality and the hurricane's impact on coastal geology. Scientists at FGCU and SCCF have long-term data to evaluate how local ecosystems and water quality were affected by the hurricane.
"We'll use the data from the water samples to look for low dissolved oxygen and salinity levels indicating stratification of the water column to see if conditions are similar to 2018," said Marine Lab Manager A.J. Martignette. "Freshwater sat on top of saltwater then and wasn't mixing. We'll see if the same situation is present."
The device pictured here, called a rosette, will be deployed from a control room on the research vessel to collect water samples at various depths.
SCCF has been regularly testing 25 sites offshore from North Captiva to Sanibel since the historic 2018 red tide thanks to the funding support of The Vince Family of Captiva through Goldman Sachs Gives. Those sites are included in the cruise and will offer integral before and after data.
Some results of the research cruise will be immediate, such as dissolved oxygen and salinity levels. Other results including nutrient levels and phytoplankton will take up to a month.
"This is a tremendous opportunity to work with our colleagues at sea and advance the science of the West Florida Shelf," said Milbrandt. "We are grateful to all of the FIO members who donated equipment that our Marine Lab and FGCU lost in the hurricane to make the cruise possible."
SCCF will be providing updates about the cruise on our social media channels. Click the links below in the "Stay Connected" area to follow us. WINK News Environmental Reporter Liz Biro is embedded on the research cruise and will be reporting on it as well.
A consortium of 32 members, including SCCF, FIO provides support and shares marine science resources between the state's universities and private, nonprofit marine research entities.