Stay in the know about wildlife, water quality, and ecosystems on Sanibel and Captiva Islands and in Southwest Florida
Keep Up with Coastal Resilience News
September 14, 2022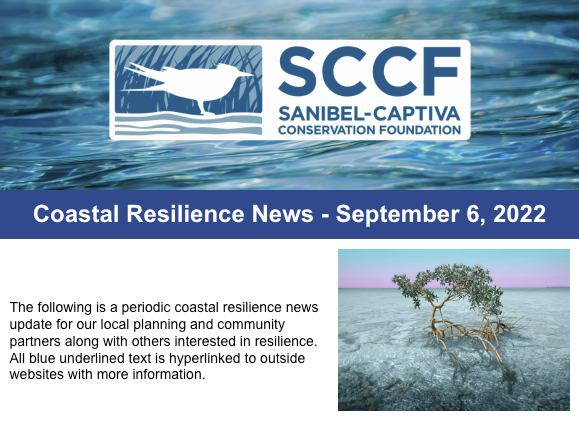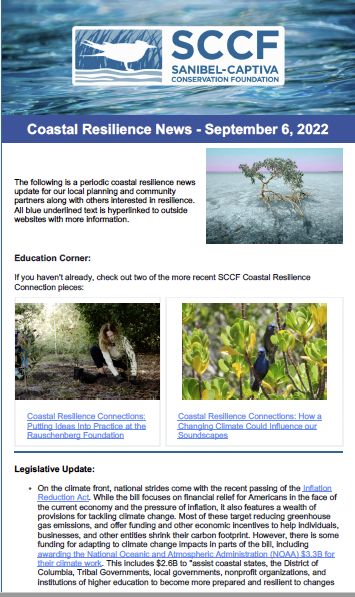 Sign up for SCCF's Coastal Resilience Newsletter written by Coastal Resilience Manager Carrie Schuman, Ph.D. The newsletter was initially started to keep some of our coastal resilience planning partners like the Captiva Erosion Prevention District and the City of Sanibel informed, but we recognize there is interest in these issues across our island community. Many of you have shown you're already engaged or want to be more engaged in how we collectively respond to climate change and impacts like coastal flooding.
The newsletter is sent out periodically as there are items to share. While the content of the newsletter may continue to evolve and expand into the future, current issues of the newsletter often contain:
• Links to recent SCCF content including articles focused on how Coastal Resilience connects to other issues and topics we care about locally
• Local news about coastal resilience efforts and other local or regional news items of interest
• Legislative updates on state and federal bills and other items with coastal resilience implications
• Announcements about upcoming resilience and climate change events
• Information about grants and opportunities for municipalities, non-profits, and other entities doing resilience work
Click here to see an example of a recent issue. Otherwise, click here to subscribe to Coastal Resilience News!