Stay in the know about wildlife, water quality, and ecosystems on Sanibel and Captiva Islands and in Southwest Florida
No Child Left on Shore Hosts Immokalee Foundation
August 2, 2022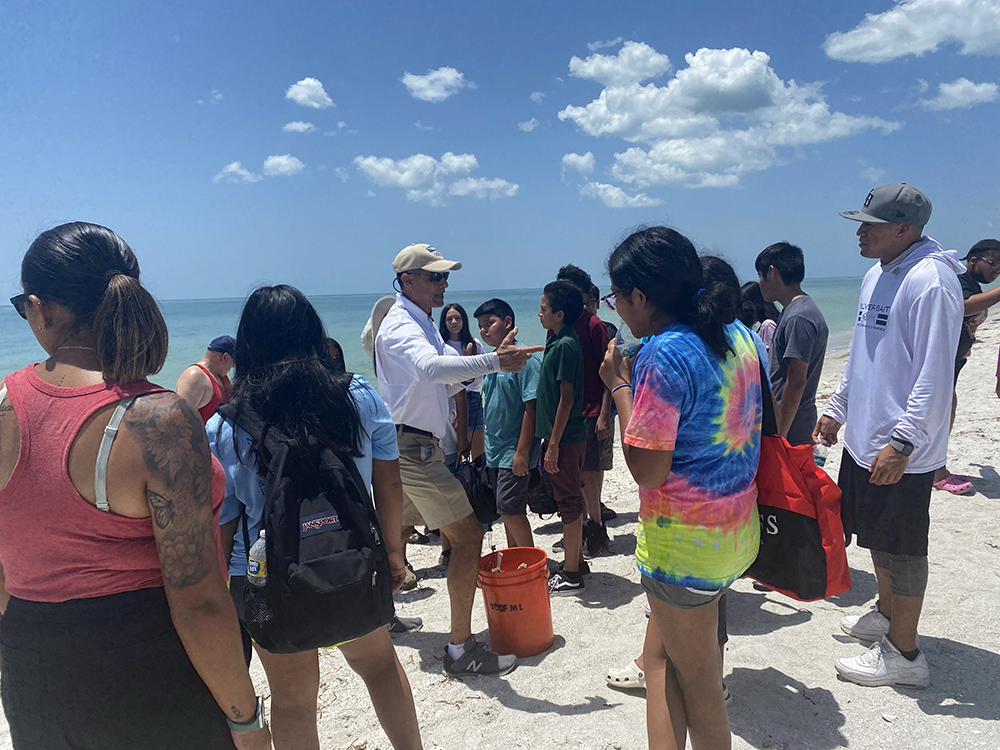 On July 29, 24 middle schoolers from Immokalee, Florida hopped aboard Captiva Cruises' The Santiva for a day of hands-on learning through SCCF's No Child Left on Shore environmental education program.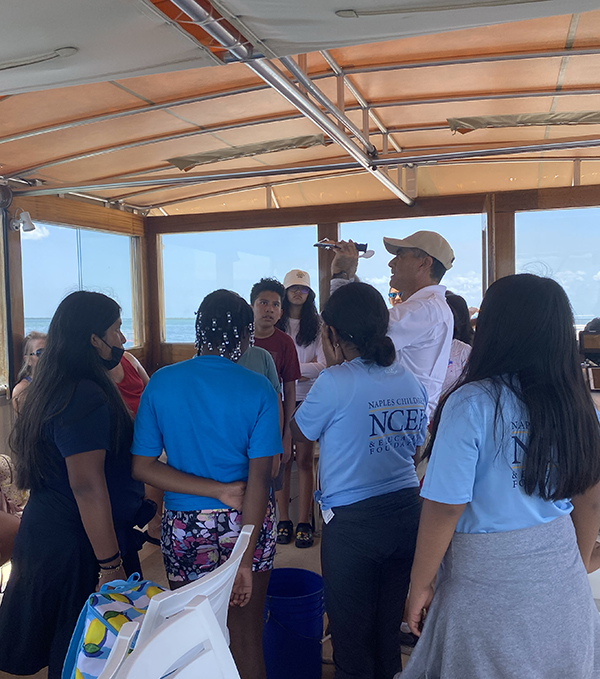 The children were with The Immokalee Foundation, a nonprofit that works to set students on the right career pathway by providing them with resources, educational tools, and career-building opportunities. The organization focuses on underserved children in the Immokalee region, many of whom come from homes where English is a second language. The Immokalee Foundation was the very first participant of the No Child Left on Shore Program in 2010, and SCCF was thrilled to welcome them back.
Accompanied by Immokalee Foundation staff and SCCF Environmental Educator Richard Finkel, the day included dolphin and seabird sightings, a visit to Cayo Costa State Park, observing life along the surf zone such as coquina clams and mole crabs, measuring water salinity using a refractometer, examining water clarity with a secchi disc, and a trawl activity. They discovered how:
Pelicans use pockets of air directly above the water to glide, expending less energy in the process
Pine Island Sound and the Back Bay waters serve as an estuary, a nursey for marine life
Baby dolphins have a thin layer of hair just like humans
Every shell once had a living organism inside
Despite being "evergreen," mangrove trees drop thousands of pounds of leaves each year and serve as a base of a vast, productive food web
Barrier islands like Sanibel, Captiva, and Cayo Costa are critical to protecting the mainland
"This was a tremendous opportunity for our students to continue learning about the environmental sciences in our area, and we hope that they'll carry this experience forward with them into their education and potential future careers," said Michael Gutierrez, healthcare pathway coordinator at The Immokalee Foundation. "We're grateful to have been part of this program."
Abigail Salazar, a student on the trip, said her favorite part was learning about seaweed and mangroves while also getting to spend time with her friends.
"This trip gave us a chance to learn about new things and opportunities that we didn't know about," she said.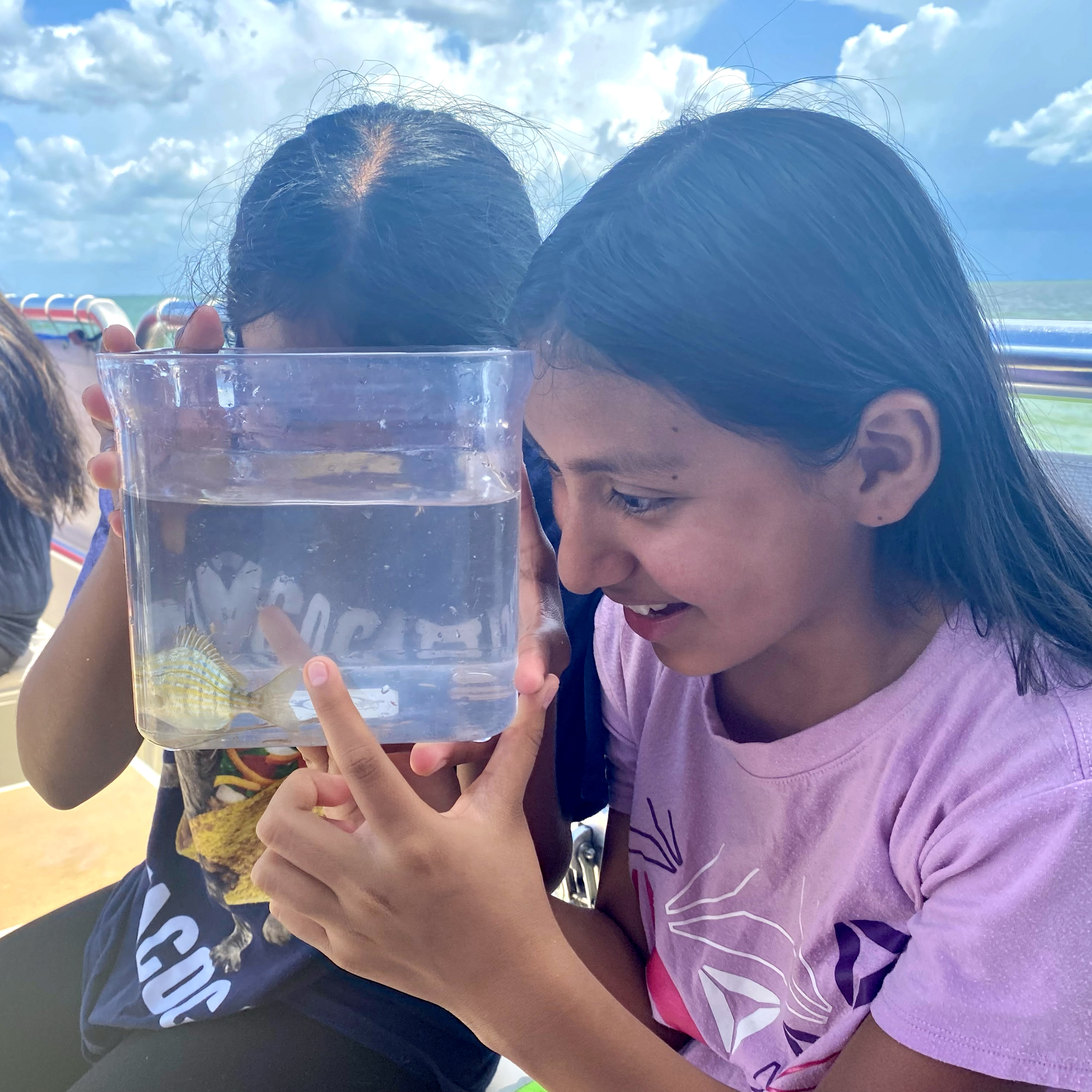 No Child Left on Shore is rooted in SCCF and Captiva Cruises' strong commitment to the protection of the environment and teaching the next generation about the ecology of Southwest Florida.
"We hope to continue inspiring local youth to form a deeper connection to their coastal surroundings and to spark their curiosity," Finkel said. "Everyone deserves that chance."
Joining us on this No Child Left On Shore Field Trip were two representatives of American Realty of Captiva, which supported this initiative. If you are interested in learning more or becoming a sponsor of a No Child Left on Shore field trip, contact Richard Finkel at rfinkel@sccf.org. SCCF also gratefully acknowledges the support of The L.A.T. Foundation and other donors who help sustain this incredible program for our young Southwest Florida neighbors.