Stay in the know about wildlife, water quality, and ecosystems on Sanibel and Captiva Islands and in Southwest Florida
Sanibel FlyFishers Fund Marine Lab Internships
May 18, 2022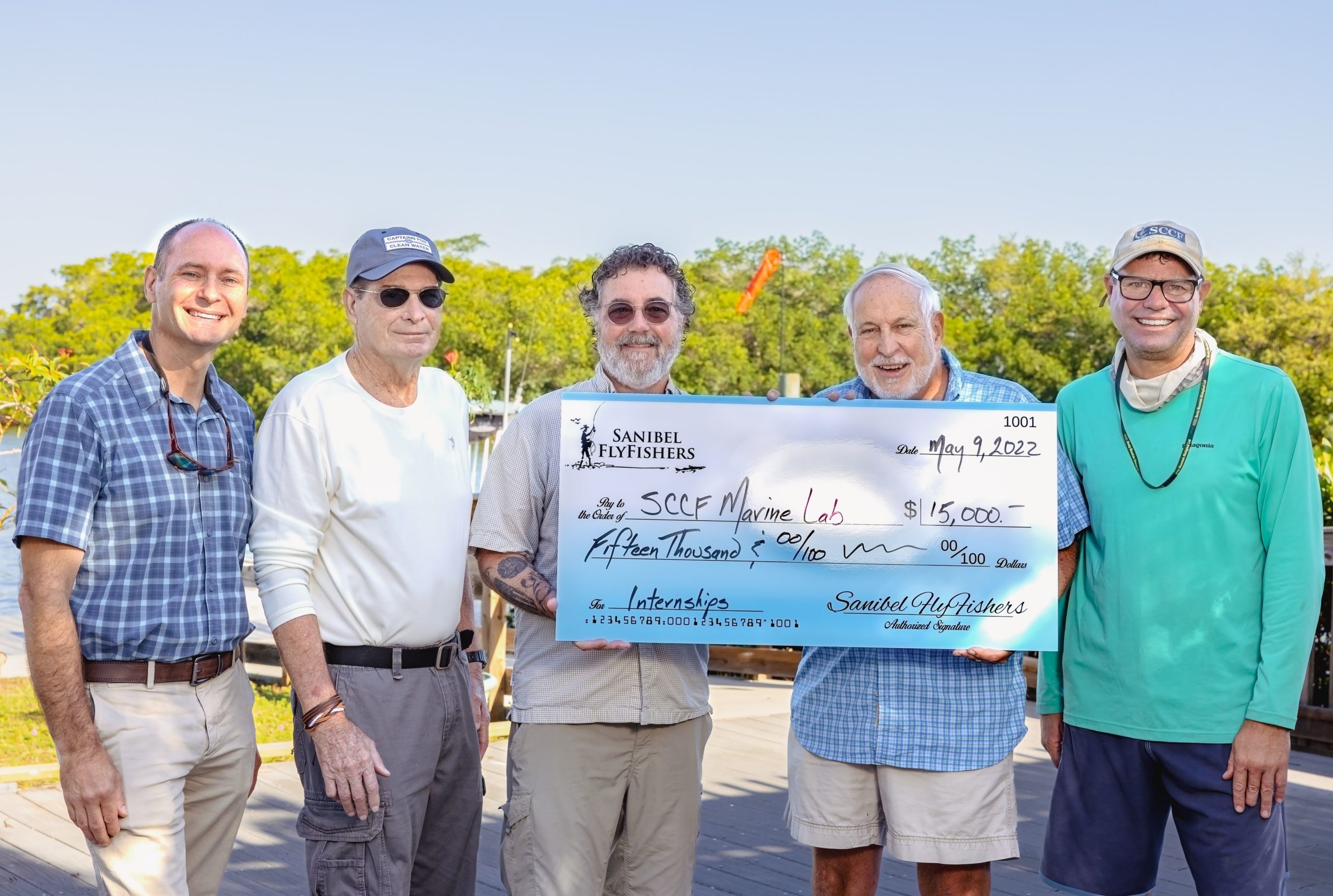 Sanibel FlyFishers is contributing $15,000 of monies raised during a recent online auction to fund research internships at the SCCF Marine Lab. Beyond that generous contribution, Mike Marston, a FlyFishers member, has pledged another $8,500 as a challenge grant to raise even more funds for SCCF interns.
As a club intended to serve as much more than a bunch of folks who like to fish, the Sanibel FlyFishers is dedicated to shaping the future of the marine resources of the community through education and research. Partnering with SCCF is a natural fit.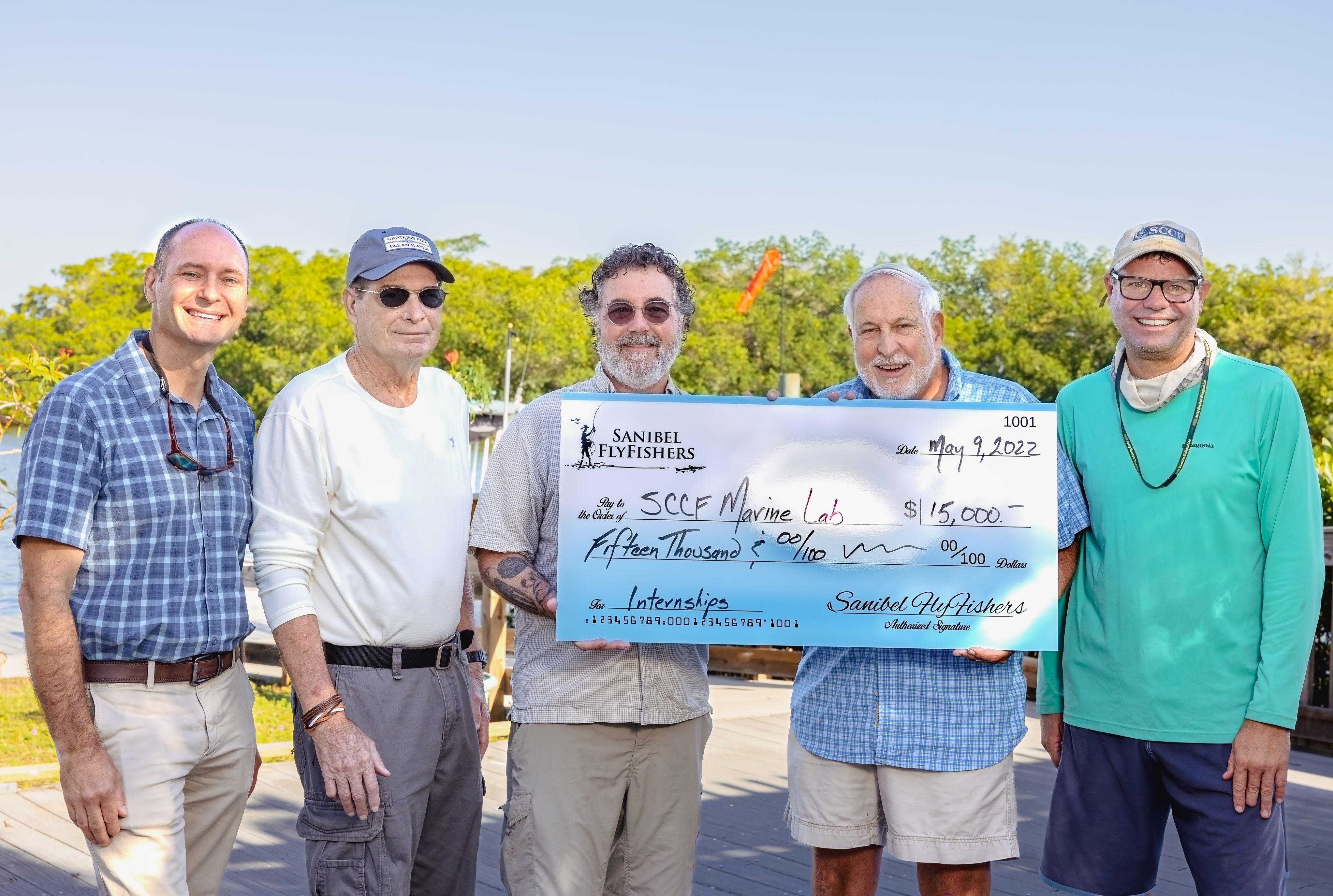 "We believe in conservation education. To ensure the future of our natural resources, we believe we must foster a new generation of resource managers—the nature stewards of tomorrow," says Sanibel FlyFishers President Pete Squibb. "We raise funds to help educate and provide practical experience for young conservationists."
In 2018, the Sanibel FlyFishers created an endowment fund at the FGCU Water School to provide scholarships for graduate students. In four years, they raised over $300,000 to endow that scholarship for the long haul. It supports and will continue to actively support graduate students at the Water School.
"Now, our focus is even more local," says Squibb. "We are strengthening our relationship with SCCF with a partnership to help support conservation research on the island."
For the next five years, the club has agreed to support research internships at the SCCF Marine Lab. To fund that initiative, it recently held an online fundraiser, "Fishin' with a Mission."
"The event was a great success because of the fantastic people who participated. At our call, the community came together, and we collected $28,000 for an array of marine conservation initiatives in Southwest Florida," says Squibb. "We thank all our many participants and supporters who made this event successful. We hope you are proud of your engagement."
Of that $28,000, Sanibel Flyfishers earmarked $15,000 for the SCCF internship program, marking a great start on this powerful long-term initiative. To add to this amount, a local community member who is a member of the fly-fishing club, Mike Marston, has made an additional pledge of $8,500 to the internship program.
"In the spirit of cooperation, he is asking others to join him in investing in the future of our island's marine resources. Let's band together to match Mike's investment," says Squibb.
Marine Lab Director Eric Milbrandt, Ph.D., is thrilled to have such generous support for the internship program, which is designed to broaden the experience of early-career young professionals.
"In addition to research on other projects, we ask our interns to formulate their own projects, purchase necessary supplies to complete the projects, and collect and analyze data," he says. "At the end of their internships, they present their findings in a seminar with lab staff and others who are interested."
The Marine Lab has a strong history of interns and staff are looking forward to building the program into the future.
"Internships allow people to explore the field of marine science and gain connections with other professionals in the field. It also gives them on-the-job training to help them decide on a direction for graduate school and gives them practical experience," says Milbrandt.
In addition to contributing to career development, these young people live and work in the island community, enriching it and deepening residents' understanding of the challenges faced by our marine environments.
The partnership between the Sanibel FlyfFishers and SCCF helps ensure the future of our natural resources, and that enriches the community, too.
To donate funds to the challenge grant, please contact SCCF Development Director Cheryl Giattini at cgiattini@sccf.org or (239)822-6121. No donation is too small to make a difference in the future of Marine Lab interns.
Founded in 2001, Sanibel FlyFishers is a Florida registered non-profit corporation and a Charter Club of Fly Fishers International. The mission of Sanibel FlyFishers is to promote fly fishing and community-based conservation through education, advocacy, and community outreach. Founded in 1967, SCCF's (Sanibel-Captiva Conservation Foundation) mission is to protect and care for Southwest Florida's coastal ecosystems.