Stay in the know about wildlife, water quality, and ecosystems on Sanibel and Captiva Islands and in Southwest Florida
Sanibel Sea School's Homeschool at Sea Focuses on Ghost Crabs
March 9, 2022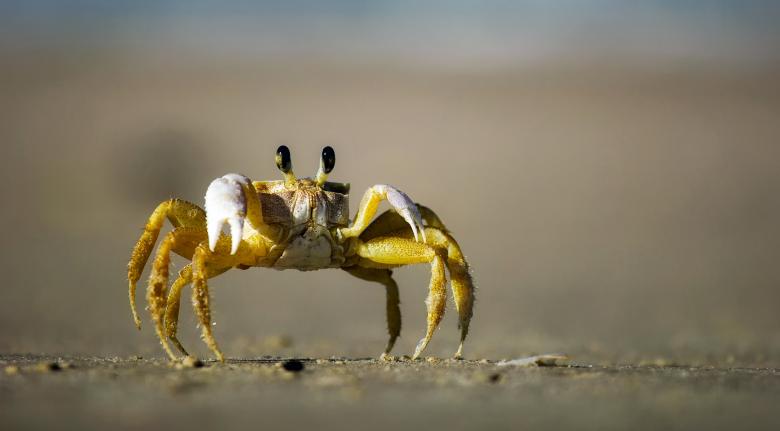 Sanibel Sea School provides customized, field-based education for homeschool families and co-ops. Marine Science Educator Kimberly Bouwkamp recently led six young explorers on a Homeschool at Sea course focused on ghost crabs (Ocypode quadrata). Bouwkamp started the class by passing around crab exoskeletons to discuss these marine creatures' adaptations and what makes ghost crabs unique. Students were given the opportunity to create their own small crabs using shells, sticks, and a little plaster of paris.
Next, Bouwkamp led the group to the gulf to search for ghost crab burrows and learn about estimating animal populations. Students picked random spots on the beach and outlined 10×10-meter quadrats (squares) in the sand and counted the number of ghost crab burrows within each quadrat. "It was great to watch the students search for the tracks and burrows and see their excitement when they found one in their square," Bouwkamp said.
After repeating the process a few times, students calculated an average number of burrows per quadrat. Knowing this number, and the total area of Sanibel, with a little help from Bouwkamp, they were able to estimate the number of burrows on Sanibel. In theory, if there is one crab per burrow, they also estimated the population on the island. "Getting an accurate number would take longer and repeated observation but the exercise was a fun, hands-on way to introduce the students to one of the many important techniques field biologists use to estimate populations," Bouwkamp said.
The class ended with students pairing up to dig their own "burrows" big enough to climb into and half the fun was burying each other and, of course, taking turns filling them in, too.
Homeschool at Sea are customizable based on the group's interests, tailored to complement existing homeschool curriculum or as a fun, educational elective. Groups typically meet once a month from September through May. Learn more at sanibelseaschool.org. We will begin accepting new homeschool group requests in May. Please email sanibelseaschool@sccf.org or (239) 472 8585.
Part of the SCCF (Sanibel-Captiva Conservation Foundation) Family, Sanibel Sea School's mission is to improve the ocean's future, one person at a time.