Stay in the know about wildlife, water quality, and ecosystems on Sanibel and Captiva Islands and in Southwest Florida
Update on Puschel Preserve Restoration
January 26, 2022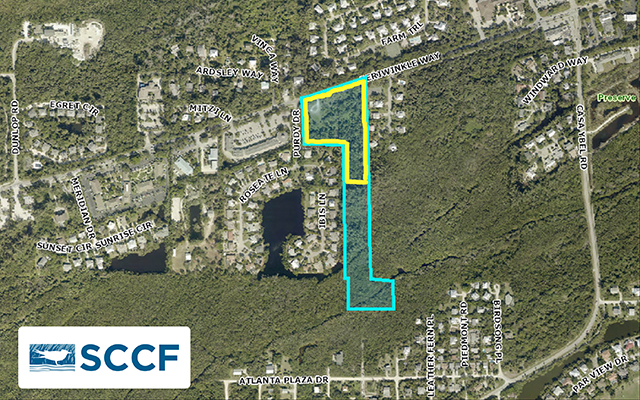 Everyone is eager to see the completed restoration of the Puschel Preserve on Periwinkle Way. The front acreage will showcase many wonderful features including a welcome plaza, pollinator garden, walking/biking trail, sculpture garden, and demonstration marsh. Those improvements can't be made until the approximately 12 acres of wildlife habitat on the preserve have been cleared of all invasive exotic trees and vegetation. That work was significantly delayed due to the particularly wet and extended rainy season Sanibel experienced in 2021.
Now for the good news: We have turned a positive corner in our restoration efforts!
There has been significant progress at the Puschel Preserve in the last few weeks due to the drying down of the standing water. Prior to that, the clearing of exotics had only been possible in the northwest corner of the property near the entrance. SCCF crews have begun to move south on the property and are beyond the east-west power lines and along the houses on the western boundary. There are large piles of Australian pine (Casuarina equisetifolia) debris stacked up and visibility extends much further back into the property. A large percentage of the trees in this area are exotics. As this arduous work moves further south on the preserve, the exotic trees encountered will be larger and the diversity of native trees will change due to a lower elevation. Many neighbors bordering the preserve have been watching with enthusiasm and are grateful that the large Australian pines and seaside mahoes (Thespesia populnea) near their homes are being removed.
The exotics removal is projected to be complete by mid-March pending unexpected delays. Reaching that milestone will allow for advancement to the other features that will be available to visitors entering from the shared-use path on Periwinkle Way. We hope to officially open the fully completed Puschel Preserve in the first quarter of 2023.