Stay in the know about wildlife, water quality, and ecosystems on Sanibel and Captiva Islands and in Southwest Florida
SCCF and Captiva Cruises Partner on Recent No Child Left on Shore Field Trip
January 26, 2022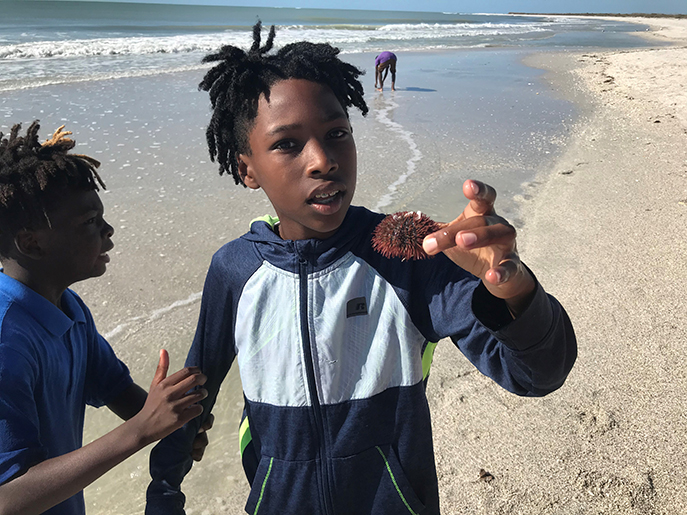 "No Child Left on Shore" (NCLOS) is a collaborative environmental education outreach partnership of SCCF and Captiva Cruises. This hands-on learning program fills a vital need by providing Southwest Florida children with an informative and fun way to gain experiential knowledge of the local marine ecology. This enriching initiative sparks the youths' curiosity and enables them to form a deeper connection to their coastal surroundings
On Jan. 11, a youth group from the Dunbar neighborhood in Fort Myers involved with the I Will Mentorship Foundation and the Boys & Girls Club of Lee County programs traveled to Captiva Cruises at McCarthy's Marina and eagerly boarded the motor catamaran, The Playtime, for a fun-filled afternoon on the water and visit to Cayo Costa State Park.
SCCF Sanibel Sea School Marine Educators Dana Donkle and Kimberly Bouwkamp joined Captiva Cruises Educator Richard Finkel to facilitate an exhilarating day of adventure and discovery for the group of 30. It was the first time being out on the water and at the beach for many of the children. In addition to getting their feet wet and playing in the surf, the participants were enthralled with a dolphin that swam close to the boat, were in awe of snail shells, sea urchins, and sand dollars, and enjoyed identifying marine life through an observational scavenger hunt.
These NCLOS field trips provide the younger generation of Southwest Florida an invaluable experiential opportunity that otherwise might not be available to them. For more information about this outreach project or to sponsor a field trip for a local youth group, contact Richard Finkel at Captiva Cruises at richardfinkel@captivacruises.com or 239-472-5300.