Stay in the know about wildlife, water quality, and ecosystems on Sanibel and Captiva Islands and in Southwest Florida
Nature's Light Show on Sanibel
December 8, 2021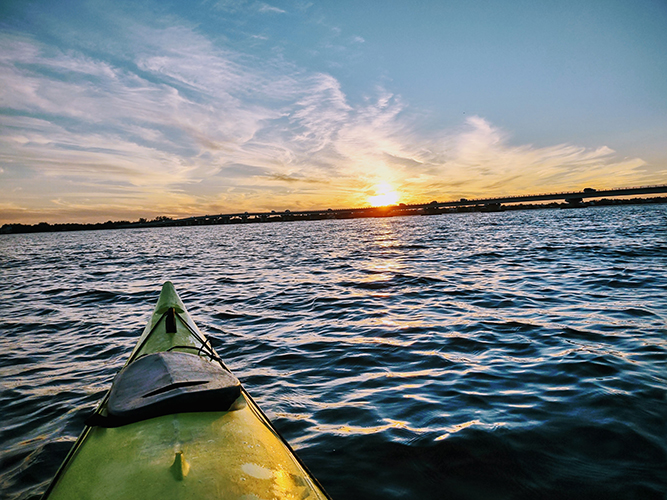 During the winter months on Sanibel, a unique opportunity presents itself – the chance to enjoy a liquid light show from single-celled, light-emitting organisms called dinoflagellates. While relatively rare in local waters, the best opportunity to observe bioluminescence comes during the new moon when the sky is dark.
For an up close and personal experience, Ocean Tribe Paddlers suggests observing bioluminescence in the calm waters of a canal on a stand-up paddleboard or kayak. With each paddle stroke, a wonderful bluish glow will appear on the water's surface. Sometimes, the movement of the vessel is enough to cause a reaction, leaving a trail of blue light in your wake. It is a truly amazing phenomenon to witness and should be on every Southwest Florida paddler's bucket list.
Last week, Ocean Tribe Paddlers hosted a bioluminescence paddle in Sanibel's East End canals. Paddlers were lucky enough to see the biological light show in the water. Members experienced a truly magical sight!
Should you choose to explore at night, have fun while taking precautions to be safe. Make yourself visible to other vessels on the water by illuminating your vessel with glow sticks or LED lights. Whether paddling before or after sunset, it is always safer to paddle with a friend and leave a float plan behind. If you paddle alone, it is extremely important to tell someone where you plan on going and for how long.
Ocean Tribe Paddlers is part of the SCCF (Sanibel-Captiva Conservation Foundation) family. Our mission is to help the local paddling community explore, enjoy, and understand the ocean. Visit Ocean Tribe Paddlers or follow us on Facebook to learn more and join the tribe!