Stay in the know about wildlife, water quality, and ecosystems on Sanibel and Captiva Islands and in Southwest Florida
Impending Vote on Enhanced Diamondback Terrapin Protections
December 8, 2021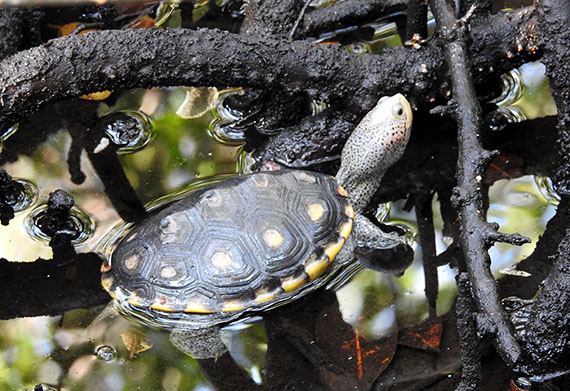 The Florida Fish and Wildlife Conservation Commission (FWC) will vote on new diamondback terrapin legislation at its meeting on Dec. 15-16. If passed as proposed, this law will eliminate any take or possession in the state and require bycatch reduction devices (BRDs) on all recreational blue crab traps in Florida. SCCF endorses this new law, which affects only recreational traps but not commercial traps.
Last December, this same proposal went to the commissioners for a vote—although it would have mandated BRD's on commercial traps in five areas in the state with established, studied terrapin populations. SCCF's ornate diamondback terrapin (Malaclemys terrapin macrospilota) research resulted in Charlotte Harbor/Pine Island Sound being designated as one of those five areas.
The crabbing industry came out in force to oppose mandatory BRDs on their traps because commercial crabbers asserted that these devices are expensive and would severely impact their industry because large male blue crabs (referred to as "Jimmie's") avoiding entering the traps due to the BRD. They claimed that most of their demand and sales are for Jimmie's, which could be wary of entering a trap with a 2-inch x 6-inch plastic rectangle in front of each opening.
However, a 2007 study on blue crab traps showed that there was no difference in the quantity or size of crabs caught in a trap with a BRD or without. The crabbing industry does not accept these results and every speaker at the meeting who opposed BRDs on commercial traps restated the same thing: "Most Jimmie's will not go in those traps." The commissioners directed FWC staff to perform the BRD study again with crab industry involvement, so both parties could witness and participate in the experiment. The results of that study are not expected for a year or more, and vote on applying the law to commercial traps is expected to follow.