Stay in the know about wildlife, water quality, and ecosystems on Sanibel and Captiva Islands and in Southwest Florida
Evening at the Homestead: "A Season of Change with CEO Ryan Orgera"
December 8, 2021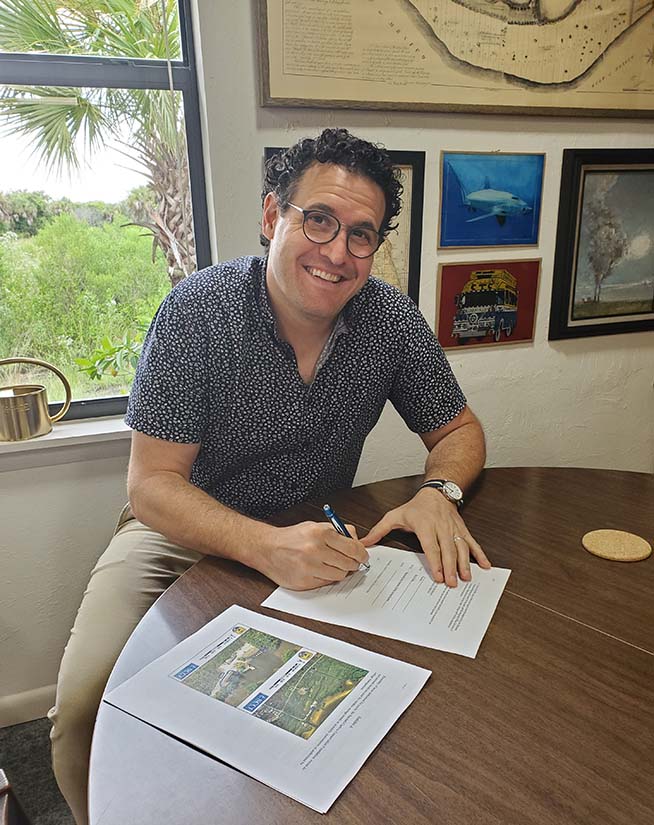 Raise a toast to Sanibel-Captiva Conservation Foundation CEO Ryan Orgera, Ph.D., who will head in a new direction in January 2022 when he takes the helm of a new global fisheries project. Join SCCF on Dec. 14 at 7pm for a farewell Champagne toast and presentation that will provide insight into SCCF's accomplishments during his tenure and where the organization is headed in the face of future environmental challenges. He also will explain the new organization funded by Oceans 5 and The Pew Charitable Trusts that he is heading up, which is designed to have a far-reaching impact on the transparency of commercial fishing in international waters.
Orgera has led SCCF since November 2018, when Southwest Florida was struggling to recover from an economically and environmentally devastating red tide crisis. Growing up on Lemon Bay in Charlotte County, he was intimately aware of the interconnectedness of the water quality in Charlotte Harbor, tributaries and estuaries, and the oceans surrounding Florida's coastline.
Orgera, SCCF, and Environmental Policy Director James Evans, who is succeeding Orgera in January, have a laser focus on water quality and other related issues, such as climate change impacts and coastal resilience, as well as preservation, conservation, and research.
Event admission is $10 and registration is required. The event includes a Champagne toast and light desserts to celebrate Orgera's dynamic leadership as members and supporters look ahead at the goals of SCCF as the importance of its mission has continued to expand since its founding in 1967. Virtual attendance via Zoom is free of charge.
Save your seat today at: In-person registration.
Join virtually for free: Free virtual attendance signup.
The Bailey Homestead Preserve is located at 1300 Periwinkle Way, Sanibel, FL 33957.