Stay in the know about wildlife, water quality, and ecosystems on Sanibel and Captiva Islands and in Southwest Florida
Next-Generation River, Estuary and Coastal Observing Network (RECON)
November 9, 2021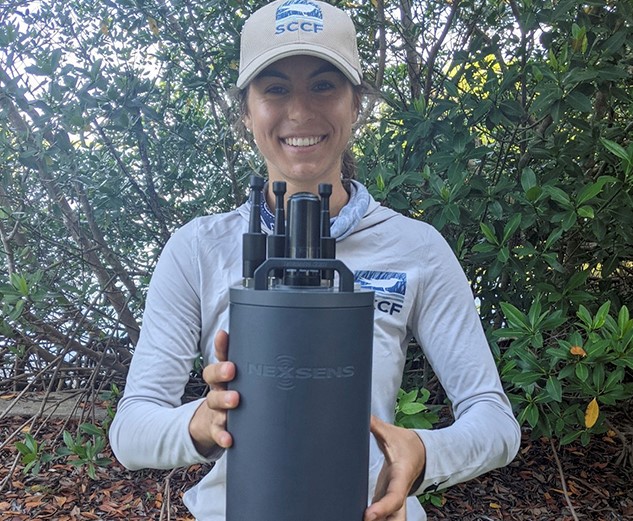 Established in 2007, SCCF's River, Estuary and Coastal Observing Network (RECON) was the first real-time water-quality observation network in Southwest Florida, and it remains the largest today. RECON utilized the most advanced water quality sensors available at that time, but those sensors are becoming obsolete. For a little prospective, when the original iPhone was released on June 29, 2007, the first RECON site had already been online for two weeks. Do you know anyone who is using a cellphone from 2007? Probably not.
Obviously, the RECON components are designed to last longer than a cellphone. The original life expectancy estimate was five to seven years. However, through yearly maintenance and refurbishing, SCCF has been able to double that expectancy. While some of the original sensors are still functioning, many have stopped working and the manufacturer will stop offering full service of some of the sensors at the end of this year. The Marine Laboratory originally planned to replace the sensors one at a time over several years. However, RECON consists of many components, including multiple sensors, data loggers, and modems—all of which are becoming obsolete—so the decision was made to completely replace RECON with the newest components available. Thanks to the commitment of Lee County and City of Sanibel and the generosity of a few concerned, longstanding, and generous donors, SCCF has been able to fund the new, upgraded, RECON 2.0 system
Global supply chain issues triggered by the pandemic have caused delays in acquiring many of the new components, but SCCF has received the first major one: the NexSens Technology X2-MCSDL data logger. This recently released data logger employs the latest technology. Unlike the original RECON data loggers, which use a separate modem to transmit the data, the X2-MCSDL combines the data logger and modem in one unit, simplifying the deployment and operation of the system.
There is no timeline on project completion due to the supply chain delays, but SCCF will keep you posted on the RECON 2.0 upgrades. Learn more about RECON and view the near real-time data: RECON.
Photo: Marine Lab Research Assistant Sierra Greene holds the new data logger.