Stay in the know about wildlife, water quality, and ecosystems on Sanibel and Captiva Islands and in Southwest Florida
Save the Dates: 2021-22 Pine Island Sounds
October 13, 2021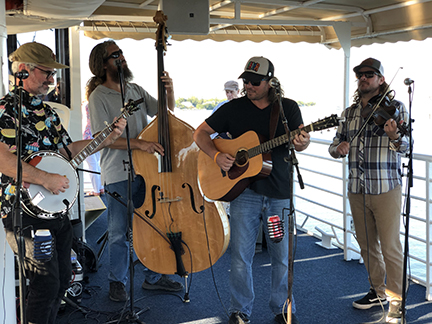 The Sanibel Captiva Conservation Foundation announced the return of a very popular set of floating musical events. After a highly successful pre-pandemic inaugural season, Pine Island Sounds is expanding to four concerts from November 2021 to February 2022.
Presented in partnership with Captiva Cruises and Todd and Leanne Marcum, the fundraising series features world class musicians performing on private sunset cruises aboard the Lady Chadwick. Guests set sail out of McCarthy's Marina on Captiva Island.
"Pine Island Sounds is a passion project for me," said SCCF Event Manager Jeff Siwicke. "We are literally sailing on the waters we're raising funds to protect and share. It's great to be able to bring this caliber of musical talent from a variety of genres to enjoy in a safe, open-air setting. This would not be possible without the Marcums and the good folks at Captiva Cruises."
The kick-off concert will be from 4pm-6 p.m. on Nov. 7 followed by concerts on Dec. 12, a date to be determined in January, and a final sunset cruise Feb. 13. Save the dates and stay tuned for further artist announcements.
The upcoming Pine Island Sounds events will raise funds to support SCCF Marine Lab's water quality research and its Sanibel Sea School's ocean-based educational outreach. Both areas of mission-driven work are powerful elements in SCCF's efforts to protect and care for Southwest Florida's coastal ecosystems.
"Under Jeff's leadership, Pine Island Sounds raised $20,000 in its inaugural season," said SCCF CEO Ryan Orgera. "We hope to surpass that goal this season, funding water quality research and educational programming focused on the coastal waters surrounding Sanibel and Captiva."
Tickets, artist announcements, and more information may be found here: https://pineislandsounds.eventbrite.com