Stay in the know about wildlife, water quality, and ecosystems on Sanibel and Captiva Islands and in Southwest Florida
Scientists Publish Study on Hypoxic Event
June 21, 2021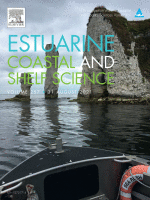 Marine Lab Director Eric Milbrandt, Ph.D., Marine Lab Manager A.J. Martignette, Research Associate Mark Thompson, and Research Scientist Rick Bartleson, Ph.D. all contributed to the study, "
Geospatial distribution of hypoxia associated with a
Karenia brevis
bloom.
" The article is available online and will be published in the September issue of
Estuarine, Coastal and Shelf Science.
In 2018, the presence of bottom water hypoxia along the Southwest Florida coast was investigated during a bloom of the toxic dinoflagellate
Karenia brevis
. The bloom was first detected in November 2017. Monitoring of oxygen levels and bloom densities was carried out in 2018 and 2019 using sampling grids.
The possible influences of red tides on hypoxic conditions along the coast of the eastern Gulf of Mexico are discussed within the context of the 2018
K. brevis
bloom event.
Hypoxia occurring in parallel to a red tide bloom is more likely to occur with warmer ocean temperatures and increased fluxes of nutrients and fresh water to the Gulf of Mexico after hurricanes.