Stay in the know about wildlife, water quality, and ecosystems on Sanibel and Captiva Islands and in Southwest Florida
Red Tide Counts Down as Wildlife Still Showing Distress
June 8, 2021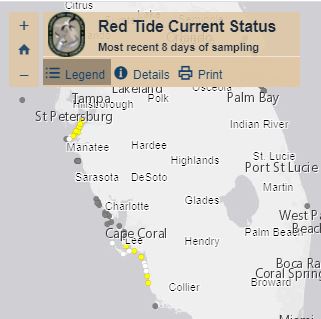 As a patchy bloom of the red tide organism,
Karenia brevis
, persists in Southwest Florida, marine and coastal wildlife are still feeling the effects.
In the past week, the Clinic for the Rehabilitation of Wildlife (CROW) has reported admitting five patients suspected of red tide brevetoxin distress, while SCCF has documented two deceased loggerhead
(Caretta caretta)
sea turtles—one in Pine Island Sound and the other on Sanibel Island.
CROW reports it is still caring for one anhinga
(Anhinga anhinga)
, a laughing gull
(Leucophaeus atricilla)
, and osprey
(P. haliaetus)
, while two other shorebirds (an anhinga and a laughing gull) have died. The causes of death for the loggerheads cannot be officially determined without a necropsy.
Over the past week,
K. brevis
was detected with bloom concentrations (>100,000 cells/liter) observed in one sample from Manatee County, one sample from Lee County, and five samples from Collier County. In Southwest Florida over the past week,
K. brevis
was observed at background to low concentrations in Charlotte County, background to medium concentrations in Lee County, and low to high concentrations in Collier County.
Click the button below to learn more about red tide and how to track it.