Stay in the know about wildlife, water quality, and ecosystems on Sanibel and Captiva Islands and in Southwest Florida
She Sells Sea Shells Donates to Land Campaign
May 18, 2021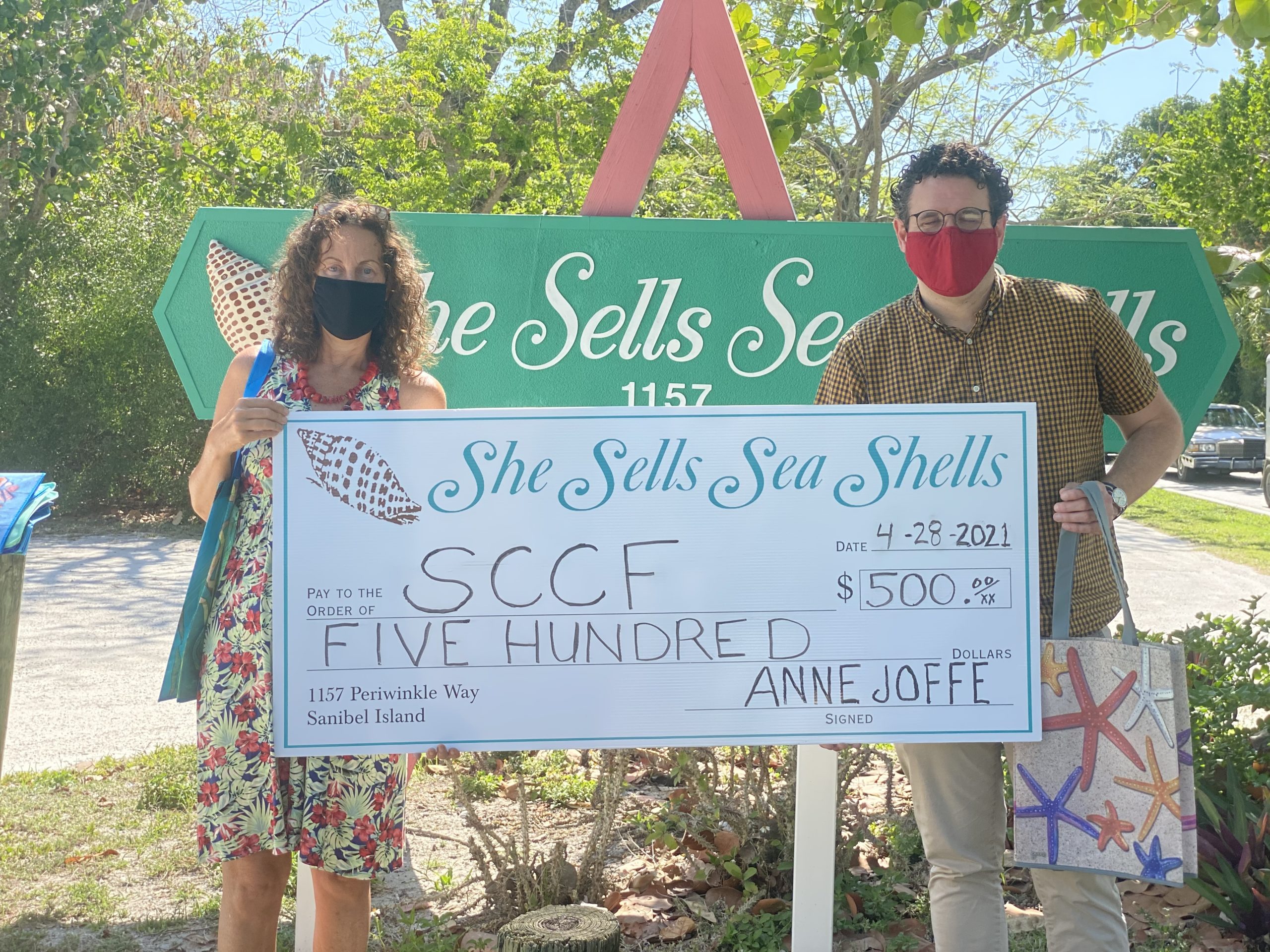 She Sells Sea Shells raised $500 from the sale of reusable shopping bags as part of an ongoing commitment to offset plastic bag pollution and support SCCF's critical conservation efforts. She Sells Sea Shells is donating $1 to the Sanibel-Captiva Conservation Foundation for every bag sold and has earmarked this donation for the Periwinkle Wetlands Land Acquisition Campaign.
Tamara Joffe of She Sells She Shells, pictured here with SCCF CEO Ryan Orgera, is carrying out a family tradition with the donation to support the environment on Sanibel.
The average American family takes home almost 1,500 plastic shopping bags a year, according to the nonprofit Natural Resources Defense Council. According to some estimates, the use of one reusable bag over a year could replace the use of 125 single-use plastics bags or 52 single-use paper bags. Disposable plastic bags are used on average for 12 minutes, while 80 percent of plastic pollution enters the ocean from the land.
The durable, washable totes—specially priced at $6 each—are made from recycled materials, and available in island-inspired designs including sea turtles, manatees, and dolphins. She Sells Sea Shells has been owned by the Joffe family since 1976, and the family is proud to have a positive impact on Sanibel island and the planet. Giving back to the community has been a core value and ongoing practice of She Sells Sea Shells for its 45 successful years on Sanibel.
This award-winning seaside boutique offers an eclectic inventory of shells and exotic sea life, jewelry, books, craft supplies, apparel, and the most extensive collection of handmade shell crafts, including ornaments, novelties, animals, and flowers.
For more information, contact Tamara Joffe at (239) 472-6991 or www.shesellsseashellssanibel.com.