Stay in the know about wildlife, water quality, and ecosystems on Sanibel and Captiva Islands and in Southwest Florida
Sanibel Sea School Partners with Island Resorts
May 18, 2021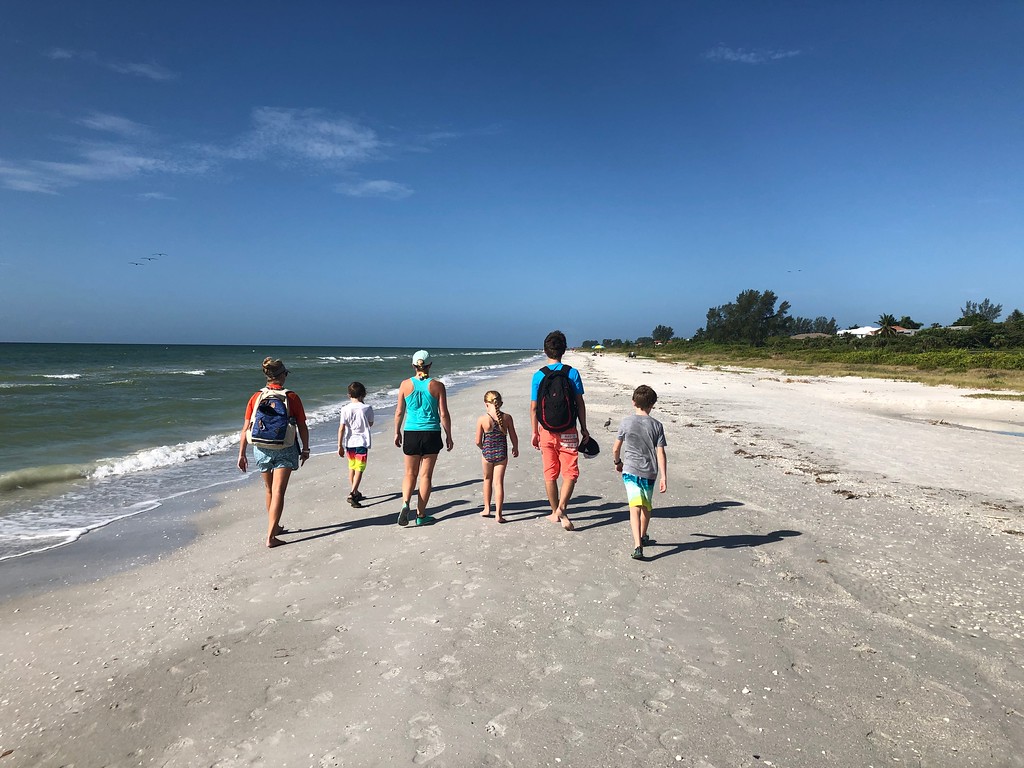 In addition to offering a variety of ocean experiences at its flagship headquarters on the island's East End, Sanibel Sea School has partnerships with resorts on Sanibel and Captiva to deliver unique, on-property marine science learning opportunities each week for kids and families.
"One of the benefits of having resort partners allows us to expand our reach – sharing the ocean with new people each year," said Sanibel Sea School Director Nicole Finnicum. "Many Sanibel Island vacationers hail from the Midwest and Northeast, so it is a great opportunity to be able to share the magic of the ocean with people who don't get to experience it frequently."
With 330 acres of nature and 2.5 miles of beach, South Seas Island Resort was a natural fit for offering environmental education. Throughout the year, marine science educators travel to Captiva to offer half-day programs for children ages 6-13, as well as Discover Beachcombing classes for families. Children's courses on manatees and dolphins are popular at the resort, where there are frequent encounters with manatees bobbing around in the marina or dolphins hunting near shore. South Seas is also a great place to spot numerous shorebirds, osprey, and wading birds near the T-dock.
"South Seas is special because many families return year after year and enroll in Sanibel Sea School classes each visit," Finnicum noted.
To register for classes at South Seas Island Resort, call (239) 472-7577.
Nestled along the East End beaches, Sundial Beach Resort offers direct access to the beautiful blue Gulf waters. Sanibel Sea School offers half-day classes each Wednesday and Friday on the resort property for kids ages 6-13 and seasonal guided beach walks with our expert marine science educators. With options for the whole family or just the kids, Sanibel Sea School has something for everyone curious about the ocean at this family-oriented resort.
On the Sundial property, Sea School educators often point out schools of fish, live sand dollars, and sea turtle nests, and "these exciting finds result in great conversations, discussions, and educational moments throughout the classes," Finnicum said.
Sanibel Sea School classes are part of the Sundial Resorts Turtle Scouts program. Reservations can be made by calling (239) 395-7226
.
The property at Sanibel Moorings is a lush tropical paradise located just steps from a shell-covered beach. Each Friday throughout the year, marine science educators meet guests at "the big blue chair" to offer a morning beachcombing walk to discover the treasures that washed ashore overnight. Open to the public and to Moorings guests, the beach walk is ideal for individuals, couples, and families who want to learn more about the unique marine ecosystem on Sanibel. The beaches at Sanibel Moorings are perfect for beachcombing because you can often find mounds of colorful shells, curious items such as mollusk egg casings and sea squirts, and schools of cow-nosed rays gliding through the shallows.
Reservations can be made through the Sanibel Moorings office at (239) 472-4119.