Stay in the know about wildlife, water quality, and ecosystems on Sanibel and Captiva Islands and in Southwest Florida
Tracking the Florida Legislature: Week 7
April 27, 2021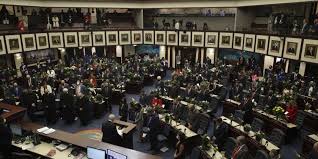 The 2021 legislative session is scheduled to end on April 30, and there will be a flurry of activity in the final weeks. Bills of interest that advanced last week:
Growth Management
:
HB 421
and
HB 1101 – Relief from Burdens on Real Property Rights
were presented together as a combined bill package that clarifies definitions in the Bert J. Harris Property Rights Protection Act. Opponents say it will allow property owners to seek protections dating back to the time of adoption of any ordinance, resolution, rule, or policy rather than at the point of enforcement as it is now. These bills are expected to have a major impact on local comprehensive land-use planning efforts. These bills passed by a vote of 14-5 and move to the full House. Senate version, SB 1876, is on its last committee stop. These bills were the focus of SCCF's April 14 Action Alert on "Oppose Harmful Land Use Bills." Thank you to SCCF supporters who contacted lawmakers to voice concerns about these harmful bills.
Ecosystem Restoration:
HB 783 – Racketeering of Aquatic and Wild Animal Life
revises the definition of "racketeering activity" to include certain actions relating to wild animal life, freshwater aquatic life, and marine life. The bill passed 18-0 and heads to full House for a vote. The identical Senate version,
SB 776
, has already passed the full Senate.
Water Quality/Growth Management:
After passing the full Senate,
SB 100-Highway Projects
(MCORES partial repeal) was voted on favorably by the House Appropriations Committee and has been added to the second reading calendar for the full House. This bill is positive news for Southwest Florida's environment but continues to call for toll road expansions in the northern and central corridors of Florida with potential impacts to pristine natural areas. While this iteration of the bill has a positive outcome for Southwest Florida, SCCF continues to advocate for strong growth management policies to protect dwindling natural resources throughout the state.