Stay in the know about wildlife, water quality, and ecosystems on Sanibel and Captiva Islands and in Southwest Florida
Red Tide Still Out There; Counts Down in Lee
April 12, 2021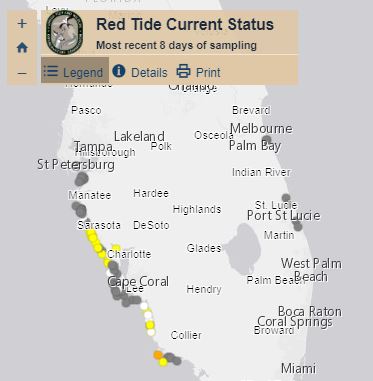 The latest red tide update from the Florida Fish and Wildlife Conservation Commission (FWC) indicates that the red tide organism,
Karenia brevis
, is still present in Southwest Florida.
The FWC reports that
K. brevis
was observed at background to low concentrations in Sarasota County, background to high concentrations in Charlotte County, background to low concentrations in or offshore of Lee County and in Collier County, and low concentrations offshore of Monroe County
The Clinic for the Rehabilitation of Wildlife (CROW) admitted three red tide patients in the past week: a snowy plover that died, a double-crested cormorant that died, and a herring gull that is still being treated.
Click the button below to learn more about red tide.