Stay in the know about wildlife, water quality, and ecosystems on Sanibel and Captiva Islands and in Southwest Florida
Red Tide Still Blooming; Counts Down on Sanibel
April 12, 2021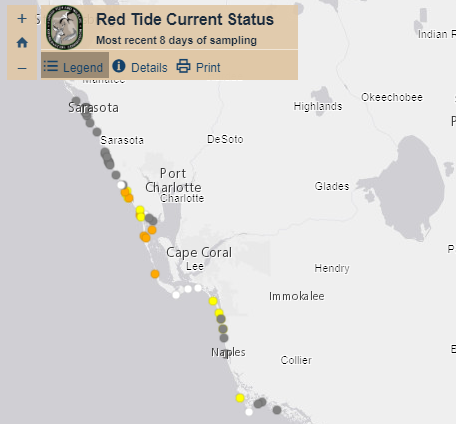 The latest red tide update from the Florida Fish and Wildlife Conservation Commission (FWC) indicates that the red tide organism,
Karenia brevis
, continues to persist in Southwest Florida.
SCCF's Marine Lab, its Sanibel Sea School, and volunteers continue sampling around the islands. Their latest results show
Karenia sp.
levels at none to a very low count at the Sanibel Boat Ramp. Counts at three Sanibel beaches were zero today.
Samples collected Monday for the FWC in island waters found medium counts at Redfish Pass, Buck Key, and Captiva Pass, as well as low counts in other parts of Pine Island Sound.
As the red tide organism persists in Southwest Florida, it continues to sicken and kill local birds.
Last week, the Clinic for the Rehabilitation of Wildlife (CROW) admitted seven avian patients in apparent brevetoxin distress. Five of them died: an osprey
(Pandion haliaetus)
, great egret
(Ardea alba)
, royal tern
(Thalasseus maximus)
, and two double-crested cormorants
(Phalacrocorax auratus)
. CROW reports two cormorants and a brown pelican
(Pelecanus occidentalis)
remain in their care.
"We had fewer red tide patients, but the ones we got in were in pretty bad shape, so it was still a tough week for them," reports CROW Admissions Manager Shelli Albright. SCCF Shorebird Biologist Audrey Albrecht said she will be closely monitoring Sanibel beaches in the coming weeks.
The SCCF Sea Turtle Team reports one stranding of a deceased Kemp's ridley
(Lepidochelys kempii)
over the past week.
FWC reports
K. brevis
bloom concentrations (>100,000 cells/liter) were observed in seven samples from Lee County over the last week. Satellite imagery on March 2 (NOAA, USF) indicated the presence of chlorophyll patches along and/or offshore of Charlotte, Collier, Lee, and Monroe counties.
K. brevis
was observed at very low to low concentrations in Sarasota County, very low to medium concentrations in Charlotte County, background to medium concentrations in Lee County, and background to low concentrations in and offshore of Collier County.
Click the button below to learn more about red tide.