Stay in the know about wildlife, water quality, and ecosystems on Sanibel and Captiva Islands and in Southwest Florida
Red Tide Persists in Southwest Florida
April 12, 2021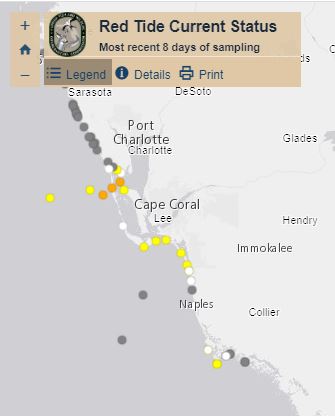 The latest red tide update from the Florida Fish and Wildlife Conservation Commission (FWC) indicates that the red tide organism,
Karenia brevis
, is still evident in Southwest Florida.
SCCF's Marine Lab, its Sanibel Sea School, and volunteers continue sampling around the islands. Today's results show
Karenia sp.
levels of zero at West Gulf Access #1, with low counts at Bowman's Beach, Tarpon Bay Road Beach, Gulfside City Park, and Lighthouse Beach.
Lee County found medium counts today on Captiva.
The FWC reports that
K. brevis
was observed last week at background to low concentrations in Charlotte County, background to high concentrations in and offshore of Lee County, and background to medium concentrations in and offshore of Collier County.
Reports from SCCF and Clinic for the Rehabilitation of Wildlife (CROW) staff show that the impacts of red tide
(Karenia brevis)
continue to take a toll on local shorebirds, sea turtles, and beach visitors.
CROW had nine living admissions with toxicosis in the past week: a brown pelican, great blue heron, mottled duck, three double-crested cormorants, two great egrets, and a loggerhead sea turtle. A mottled duck and double-crested cormorant, which were already deceased, were also brought into the clinic, which is still caring for most of these patients, though the great blue heron and a great egret have died.
On Captiva on Friday, SCCF Shorebird Biologist Audrey Albrecht encountered several beachgoers experiencing respiratory distress. "There were many people coughing, including me," she said.
On her Monday walk from the Sanibel Lighthouse to Tarpon Bay, Albrecht did not experience the same respiratory irritation but did observe "a lot of dead sea life including crabs, fish, urchins, bivalves, and a great deal of parchment tube worm casings," she said.
SCCF's Sea Turtle Team reported two loggerheads washed up dead on Sanibel and one on North Captiva over the past week, with unknown causes of death.
SCCF continues to monitor and report on local red tide conditions and is undertaking studies to determine the extent of harmful algal blooms and their impact within the marine food web.
Click the button below to learn more about red tide.