Stay in the know about wildlife, water quality, and ecosystems on Sanibel and Captiva Islands and in Southwest Florida
SCCF Opposes Proposed Oil Drilling in Bahamas
February 25, 2021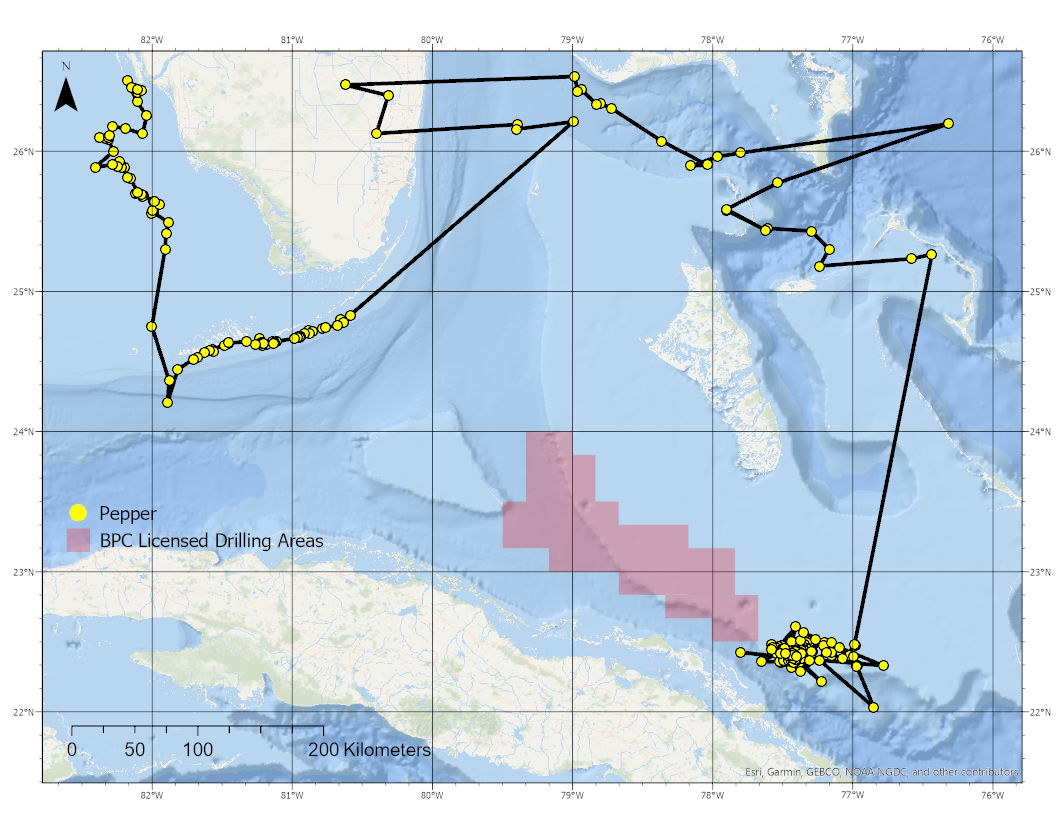 Foraging Grounds of Loggerheads a Concerning Factor
During the 2020 sea turtle nesting season, three loggerheads
(Caretta caretta)
were satellite tagged after successfully nesting on Sanibel in order to learn more about post-nesting movements, migratory pathways, and foraging grounds of loggerheads that nest on the Gulf Coast of Florida. One female, "Pepper," displayed interesting post-nesting movements.
After leaving Sanibel, as seen on her track pictured here, Pepper headed south to the Florida Keys, then swam east and made her way to the Bahamas. Shortly thereafter, Pepper once again headed south, ending up off Cuba's coast. After traveling approximately 1,400 kilometers (about 870 miles), her satellite tag stopped transmitting. Since then, it has transmitted intermittently—showing Pepper remains offshore of Cuba—with the last location data coming on Jan. 23, said SCCF Coastal Wildlife Biologist Jack Brzoza.
Collaborators at the Conservancy of Southwest Florida have seen similar movements in loggerheads satellite tagged on Keewaydin Island. "Research published by scientists at the University of Central Florida, Conservancy of Southwest Florida, and Southeast Fisheries Science Center National Marine Fisheries Service showed seven tracked turtles to have foraging grounds in the Bahamas," Brzoza said. "They followed similar paths to the Bahamas as Pepper, although they did not show evidence of crossing the deep channel south of the Bahamas to forage near Cuba."
In mid-December, the Bahamas Petroleum Company commenced exploratory oil drilling in Bahamian waters. The drilling is south of Andros Island, 150 miles from Florida's east coast, and the company retains a lease on four million acres between the Bahamas and Cuban coast in the pink area in this illustration, which contains Pepper's foraging grounds.
"We are uncertain what this drilling means for Pepper, Keewaydin turtles migrating to the Bahamas, and other loggerheads foraging in this area," Brzoza said. "We are hopeful that Pepper's tag will continue transmitting and reveal no displacement from this increased activity."
Last month, the Everglades Coalition, an alliance of more than 60 environmental and conservation organizations, wrote a resolution, "Opposing Oil and Gas Exploration and Development in Bahamian Waters." It notes that Bahamas Petroleum Company's active exploratory well "is nearly the same distance that the Deepwater Horizon was from Florida's panhandle." The Coalition "opposes oil drilling operations and development in Bahamian waters due to the potential significant harm risked with an operation so near to Florida's coast and the Gulf Stream current." SCCF is a member organization of the Coalition and voted to endorse the resolution.
On Feb. 9, the Bahamas Petroleum Company said it found oil during six weeks of drilling, but not a commercial quantity of it. BPC planned to plug and abandon the well in the next few days and move its drillship, Stena IceMax, away from the site, according to an
article in the Sun-Sentinel
.
The project caused concern over the possibility that a spill could cause major problems for tourism, fishing, diving, coral reefs, wildlife, and the environment, particularly in South Florida and the Florida Keys.