Stay in the know about wildlife, water quality, and ecosystems on Sanibel and Captiva Islands and in Southwest Florida
Wine in the Wilds is Sold Out; 50/50 Tickets Still Available
October 28, 2020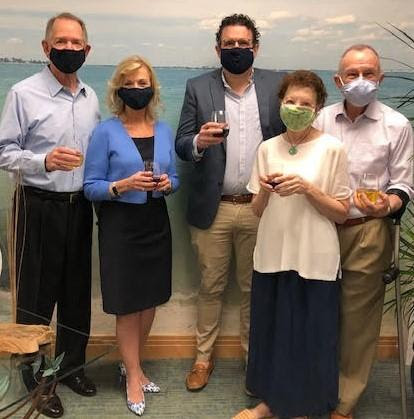 Wines in the Wild homeINstead party boxes are sold out. But you can still enter the "50/50+10" drawing!
The Wines in the Wild party boxes are sold out (sorry!) but tickets are still available for the very special "50/50+10" drawing. This year, we're including wine – and a magnum of Dom Perignon – in the drawing.
Speaking of champagne, SCCF wants to toast this year's Presenting Sponsor, Bank of the Islands. "We truly appreciate Bank of the Islands' support of this event for more than a decade," said founders Tom and Linda Uhler. "With the challenges presented this year by the pandemic, their support has been especially helpful."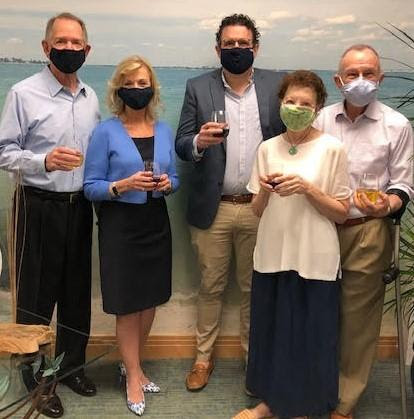 In the photo above, Bank of the Islands CEO and President Geoff and Robbie Roepstorff, SCCF CEO Ryan Orgera and Linda and Tom Uhler get a preview of one of this year's wines.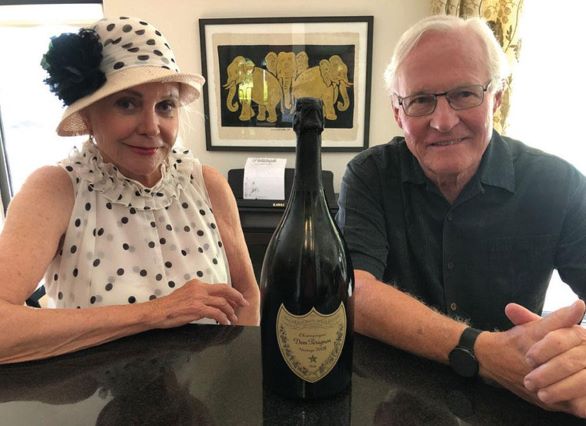 Platinum Sponsors Joyce and Don Rice, pictured here, are looking forward to their very special meal at home on Nov. 13. And they are also excited about the 50/50 drawing.
"We've added a very special feature this year," said Don. "There will still be the traditional 50/50 cash drawing but we've added "+ 10" – the chance to win one of ten lots of five bottles of wine, with each lot valued at no less than $160. And as an added bonus, for each $100 purchase, you will get one chance for a drawing for a magnum of 2008 Dom Perignon, a $550 value!" Tickets are $25 or five for $100. Please note that wine cannot be shipped to an out of state winner.
To purchase your "50/50+10" tickets, click here. The drawing will be held on Nov. 12 so that your "+10" will be available for drive by, touchless pickup at the Bailey Homestead, 1300 Periwinkle Way, on Nov. 13.
Funds raised support SCCF's mission, which is dedicated to the conservation of coastal habitats and aquatic resources on Sanibel and Captiva and in the surrounding watershed. Community support through membership dues and tax-deductible contributions, in addition to grants and staff-generated revenue, makes this work possible.