Stay in the know about wildlife, water quality, and ecosystems on Sanibel and Captiva Islands and in Southwest Florida
Advocates Join State, Federal Agencies in Groundbreaking
October 28, 2020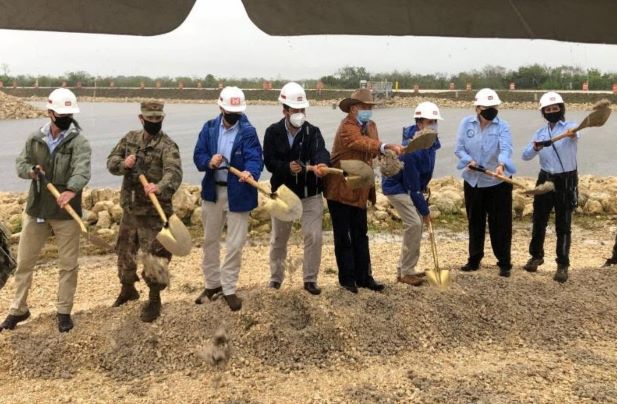 On October 21, SCCF Environmental Policy Director James Evans joined state and federal agencies, members of the South Florida Ecosystem Restoration Task Force, and fellow Everglades advocates in celebrating the groundbreaking of the Central Everglades Planning Project — CEPP South.
As the heavy rains came down over the central everglades and water formed rivulets on the ground beneath the white tents set up along Tamiami Trail in Miami-Dade County, a crowd intently listened to remarks made by Governor DeSantis and leadership from the U.S. Army Corps of Engineers, the South Florida Water Management District, and other federal and state agencies involved in Everglades restoration.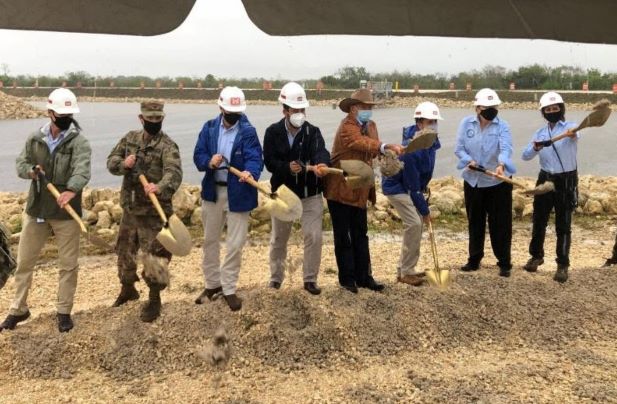 Pictured above, from left to right: SFWMD Governing Board Member Jay Steinle, Commander U.S. Army Corps of Engineers Jacksonville District Col. Andrew Kelly, SFWMD Governing Board Chairman Chauncey Goss, SFWMD Governing Board Vice Chairman Scott Wagner, SFWMD Governing Board Member Ron Bergeron, SFWMD Executive Director Drew Bartlett, SFWMD Governing Board Member Charlette Roman, and SFWMD Governing Board Member Jacqui Thurlow-Lippisch.
"As one speaker after another talked about the unique characteristics of the river of grass, emphasizing the ecological and economic significance to our national and state economies, we were reminded of the importance of restoring this ecological treasure," Evans said.
The CEPP South Project is a critical piece of the puzzle for moving water south from Lake Okeechobee, through the central Everglades, and into Everglades National Park. CEPP South is part of the larger CEPP Project, which includes a suite of Comprehensive Everglades Restoration Plan (CERP) projects aimed at moving more water south.
"It is important for the coastal estuaries because, when combined with the Everglades Agricultural Area reservoir, it will significantly reduce the frequency and duration of damaging high-volume discharges to the Caloosahatchee and St. Lucie, while rehydrating Everglades National Park and Florida Bay," Evans said. "The project is designed to double the capacity of water that can be moved into Everglades National Park."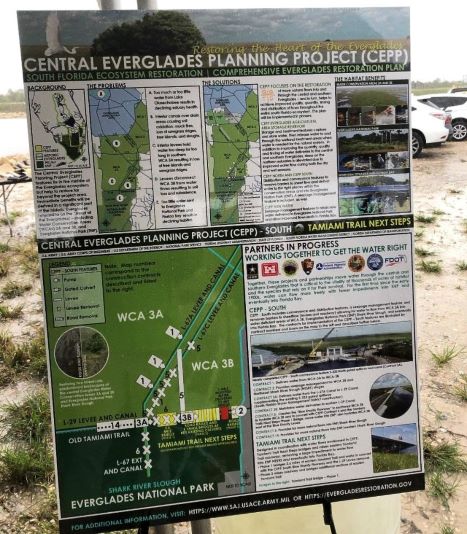 The various components of CEPP are scheduled for completion by 2028. It will require significant state and federal funding to get these projects to the finish line. Annual funding for Everglades projects for 2021 is estimated at $508 million, with $250 million from the federal partners and $258 million from the State of Florida.
Everglades restoration is an investment in our future and is projected to provide $4 to the State's economy for every $1 invested.
"Through these important capital investments in Everglades restoration we can see a day in the not-so-distant future where our coastal communities don't have to rely on the impulses of mother nature to determine if we will have a good year or a bad year," Evans said. "We just need the political will to keep these important Everglades projects funded and moving forward so that we can attend the next important groundbreaking."