Stay in the know about wildlife, water quality, and ecosystems on Sanibel and Captiva Islands and in Southwest Florida
Evenings at the Homestead: Monitoring Endangered Leatherback Sea Turtles
October 14, 2020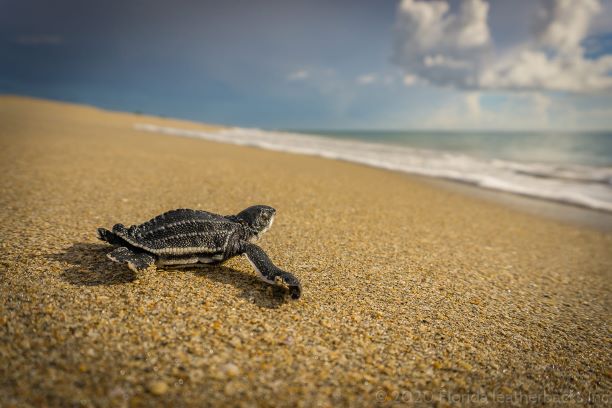 Editor's note: We are pleased to announce this year's Evenings at the Homestead speaker series. Though we won't be able to see you in person, we're looking forward to meeting with you virtually. CLICK HERE TO REGISTER.
Leatherback sea turtles are one of the rarest species of marine turtle on the planet, and their population in Florida remained somewhat of a mystery in this area until recently.
Two leatherback experts will kick off this year's Evenings at the Homestead on Tuesday, Nov. 17.
By conducting nightly surveys to tag and identify each individual, biologists with Florida Leatherbacks Inc. have been able to define important population and biological parameters.
This study incorporates basic morphometrics, satellite tracking, and genetic analysis to help better describe this local population and work toward conservation efforts.
The rarest of the three species that regularly nest in Florida, more than 1,000 unique individual leatherbacks have been identified, important nesting parameters have been defined, and migratory patterns are better understood.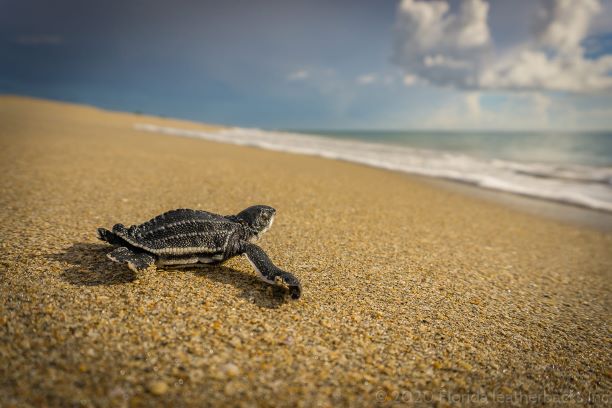 Florida Leatherbacks Inc. studies southeast Florida's population of nesting leatherback sea turtles.
Kelly Martin has worked with sea turtles for nearly 20 years. She grew up in Michigan and obtained her Bachelor's degree in Zoology from Michigan State University. She began her career working with nesting leatherbacks, assisting in sea turtle rehabilitations, and conducting nesting surveys along the east coast of Florida.
From there she moved to Clearwater Marine Aquarium and ultimately Mote Marine Laboratory & Aquarium, where she worked in the aquarium, assisted in nesting research, and completed her master's degree in Marine Science at the University of South Florida — studying the auditory abilities of loggerhead sea turtles.
She returned to the east coast of Florida as a biologist for Loggerhead Marinelife Center, where she helped manage nesting surveys on one of the densest nesting beaches in the world and managed a leatherback tagging and tracking project.
Martin later moved to the government sector and spent four years conducting lighting surveys and managing sea turtle compliance monitoring for beach nourishment projects for Palm Beach County.
She currently works as the program coordinator for the Marine Environmental Education Center and serves as the president of Florida Leatherbacks Inc., a non-profit conducting leatherback tagging and tracking on the densest leatherback nesting beach in Florida.
Her passion lies with leatherbacks and she has seen just over 1,000 in her career but she is interested in all aspects of conservation of all seven species of sea turtle.
Chris Johnson is with the same group and will also be speaking.
He has been conducting marine turtle research since the early 1990s along Florida's beaches.
Johnson has worked with the City of Boca Raton, Florida Atlantic University, Nova University and the Loggerhead Marinelife Center
Johnson and partners at Duke University, Palm Beach County, Sea Turtle Conservation League of Singer Island, and John D. MacArthur Beach State Park began a comprehensive study of leatherback turtles in 2001.
That study identified more than 600 nesting leatherbacks utilizing northern Palm Beach County beaches.
Martin and Johnson formed the non-profit Florida Leatherbacks Inc. in 2014 to study the endangered leatherback sea turtle population in Martin County, Florida.
• Tuesday, Nov. 17, 7 p.m.: Florida's Living Dinosaurs: Monitoring Florida's Endangered Leatherback Sea Turtles, presented by Kelly Martin and Chris Johnson, Florida Leatherbacks, Inc. CLICK HERE TO REGISTER.