Stay in the know about wildlife, water quality, and ecosystems on Sanibel and Captiva Islands and in Southwest Florida
SCCF Sea Turtle Program Awarded Grant for GPS Device
August 19, 2020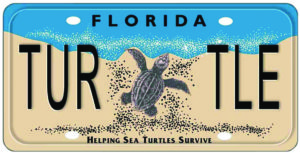 This year, SCCF Sea Turtle Program Research Associate Andrew Glinsky was awarded a grant from the Sea Turtle Grants Program which is funded by Florida's Sea Turtle Specialty License Plate. The grant that was awarded to SCCF was used to purchase a Trimble TDC150.
The TDC150 is a highly accurate GPS system and is able to obtain location data within seven centimeters of accuracy. This is extremely impressive when compared to a standard GPS unit which may only get down to 3 meters accuracy.
"This season the TDC150 was used to collect data on hundreds of nests on Sanibel and Captiva and the SCCF Sea Turtle Program is excited to use this unit for years to come," said Glinsky.
This unit is an extremely valuable tool especially following a storm or high tide events. Nests subjected high winds and waves often lose the stakes marking their location. Having accurate location data lets SCCF staff find the exact location of the nests so they can be properly marked and protected for the remainder of their incubation.