Stay in the know about wildlife, water quality, and ecosystems on Sanibel and Captiva Islands and in Southwest Florida
SCCF Box Turtle Project Expands Efforts
July 31, 2020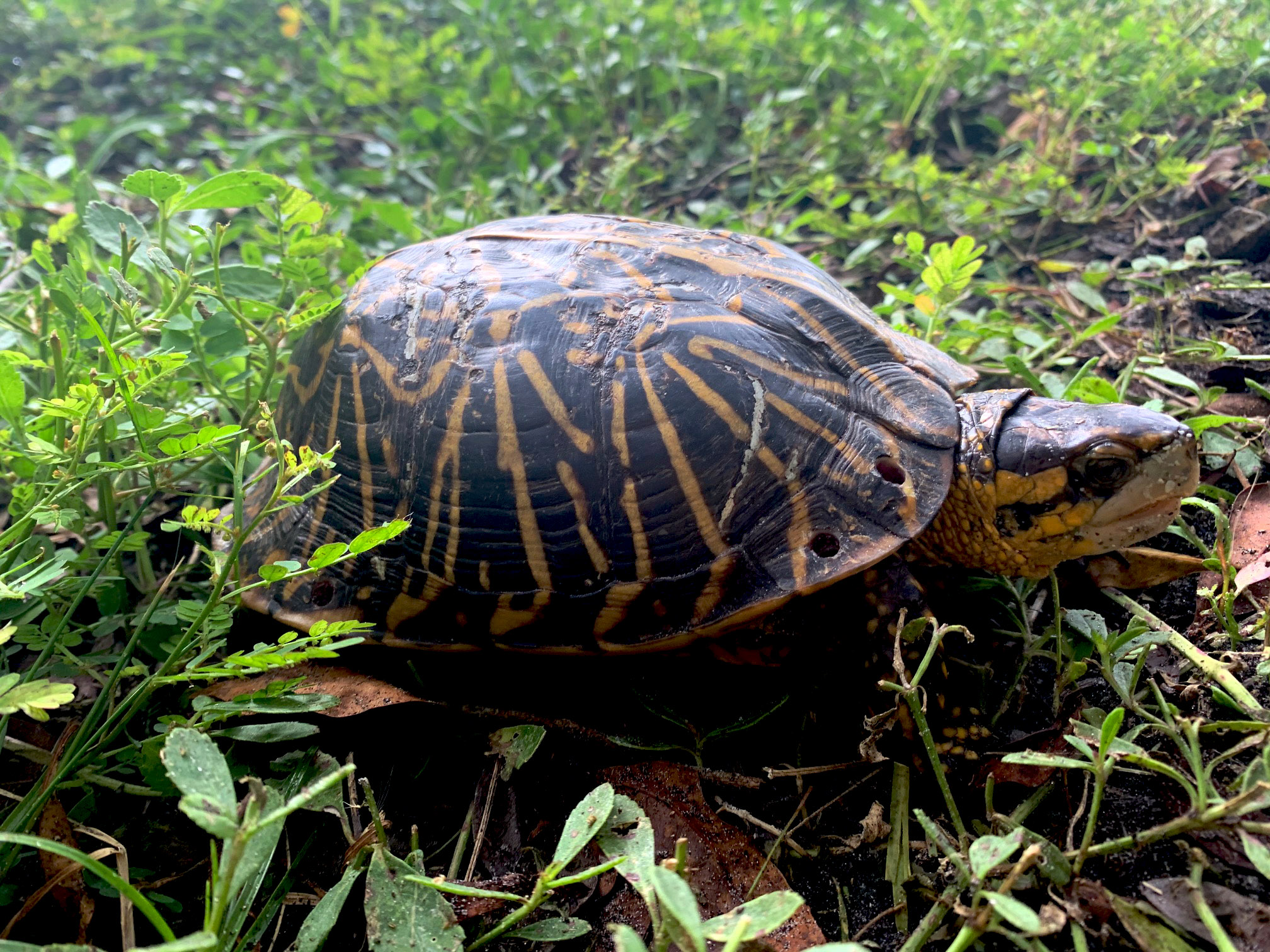 The SCCF Florida Box Turtle Project has expanded its efforts on Sanibel and Captiva by taking on a limited number of volunteers to help survey for box turtles.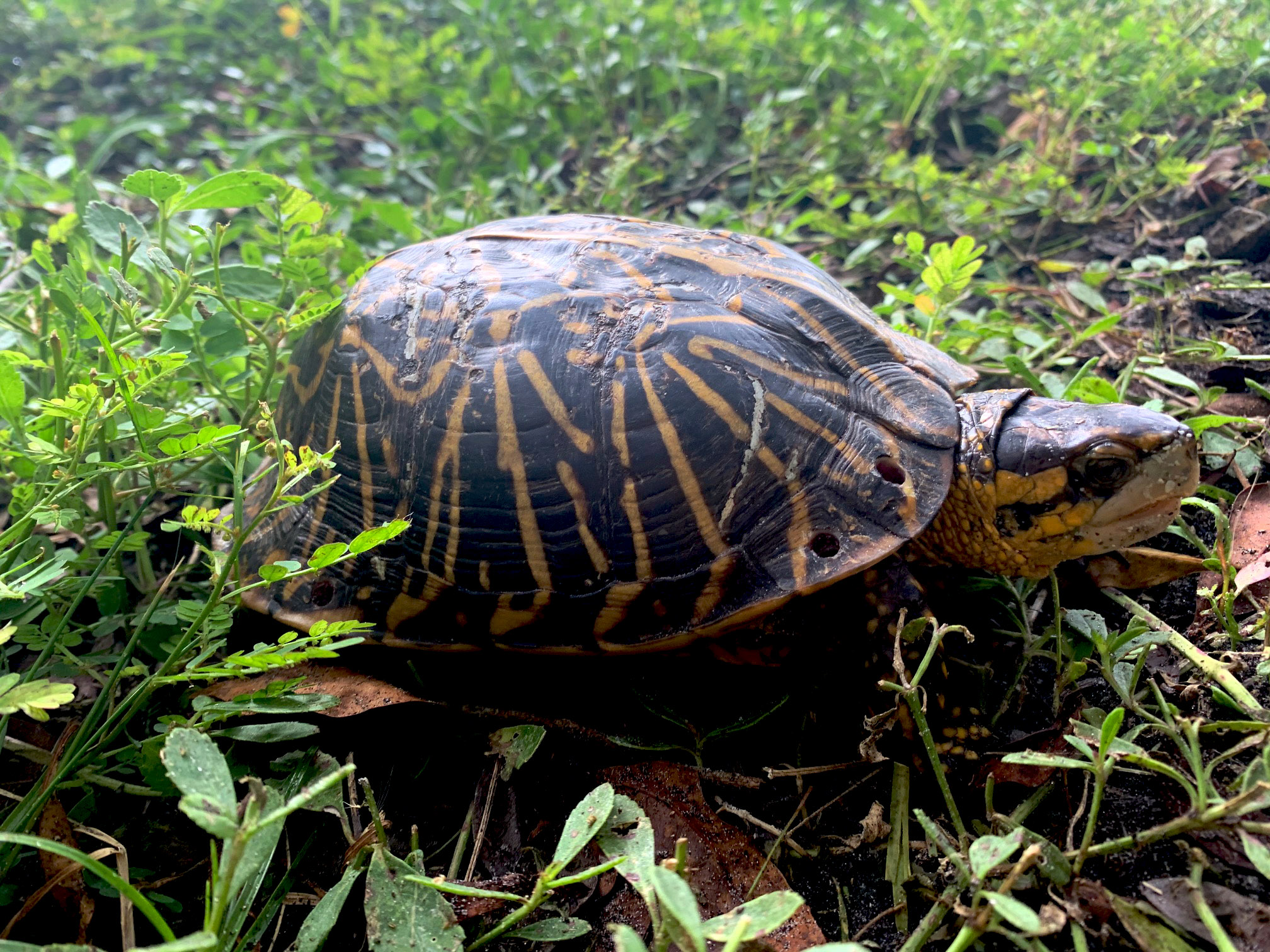 "These volunteers, mostly alternates from the SCCF Sea Turtle Program, are dedicated to sustaining populations of all turtles on Sanibel and Captiva," said Wildlife & Habitat Management Director Chris Lechowicz. "With their help, we will be able to locate, take measurements and permanently mark more box turtles so we can better understand the population dynamics of these small, long-lived turtles that are in dire need of conservation efforts due to turtle trafficking."
The mark features holes in the edges of the carapace that represent a unique number, as pictured here. This "notching" of the shell is the most popular method of marking research turtles today. It was first described in 1939 by Fred Cagle.
SCCF is also contributing genetic samples from Sanibel box turtles to Tangled Bank Conservation in conjunction with the Turtle Survival Alliance (TSA) to help create a range-wide genetic map of all box turtles in the U.S. This will enable turtle biologists to release more turtles from confiscations back into the wild in their proper ranges instead of ending up permanently in captivity.
Last fall, state wildlife officials freed nearly 300 turtles on Sanibel as the result of the largest seizure of trafficked turtles in recent history. The Florida Fish and Wildlife Conservation Commission (FWC) charged two suspects for poaching thousands of Florida's native turtles from the wild and selling them illegally in Florida, with final destinations in international markets.
All turtles on Sanibel are protected by law by Sanibel Code Section 10:6(d).
"This means that wild turtles from Sanibel cannot be taken, captured, possessed, or harassed without permission from the city," said Lechowicz. "The state of Florida also has laws protecting them from commercial harvest."
Public and private landowners such as the J. N. "Ding" Darling National Wildlife Refuge, the City of Sanibel, and SCCF also have rules protecting wildlife on their lands. SCCF has permits from FWC and permission from the city and refuge to conduct research on box turtles on their lands, as well as other species.
Observations of the turtles' behavior are also recorded.
"One of the parameters that we record during our radio telemetry effort is called form or the shallow depression that they make to spend the night and the hot part of the day," said Lechowicz. "This can be complete or incomplete depending on how much of the shell is left exposed. The substrate they choose is also recorded."
The photo here is an example of such form.
The Sanibel Police Department and the city are aware of these efforts and supportive of these volunteers and the program. Volunteers can be easily recognized by a program badge, each with a unique identification number.
If you see a Florida box turtle and want to report its location, you can call, text, or email SCCF at 239-470-3313 (cell), 239-472-3984 (office), or clechowicz@sccf.org. Send a picture and location if you can for verification. Turtles are marked with microchips and scute (shell) notching.
If you see a marked turtle, you can also report it as well. This gives us more home range data and longevity information. If you witness or suspect poaching of wild Sanibel turtles, you should call the Sanibel Police Department 239-472-3111.