Stay in the know about wildlife, water quality, and ecosystems on Sanibel and Captiva Islands and in Southwest Florida
LCEC-Funded Videos on Sea Turtle Program in Production
July 23, 2020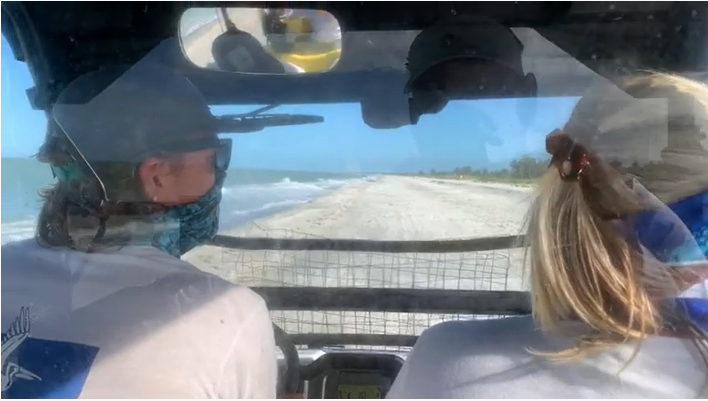 SCCF received an environmental funding award from LCEC to produce two short public education videos about our Sea Turtle Monitoring Program during our 2020 nesting season. Emmy-award-winning John Scoular of Manta Films, producer of the videos, was on Sanibel to shoot the turtle team on one of their morning patrols this week.
This short video clip was taken from the back seat of an ATV that has a plexiglass partition to maintain social distancing. SCCF Biologist Jack Brzoza and Volunteer Permittee Cheri Hollis scan the western end of Sanibel to look for evidence of nesting and hatching. The west end of Sanibel, from Tarpon Bay Road Beach to Blind Pass, has 471 loggerhead nests so far this nesting season. More than 3,000 hatchlings have made it safely to sea from that end of the island to date.
The LCEC videos will educate the public on how to safely share the shore with sea turtles and will highlight the research and monitoring efforts of SCCF's sea turtle program.