Stay in the know about wildlife, water quality, and ecosystems on Sanibel and Captiva Islands and in Southwest Florida
SCCF Offshore Testing Finds Red Tide Bloom
October 16, 2019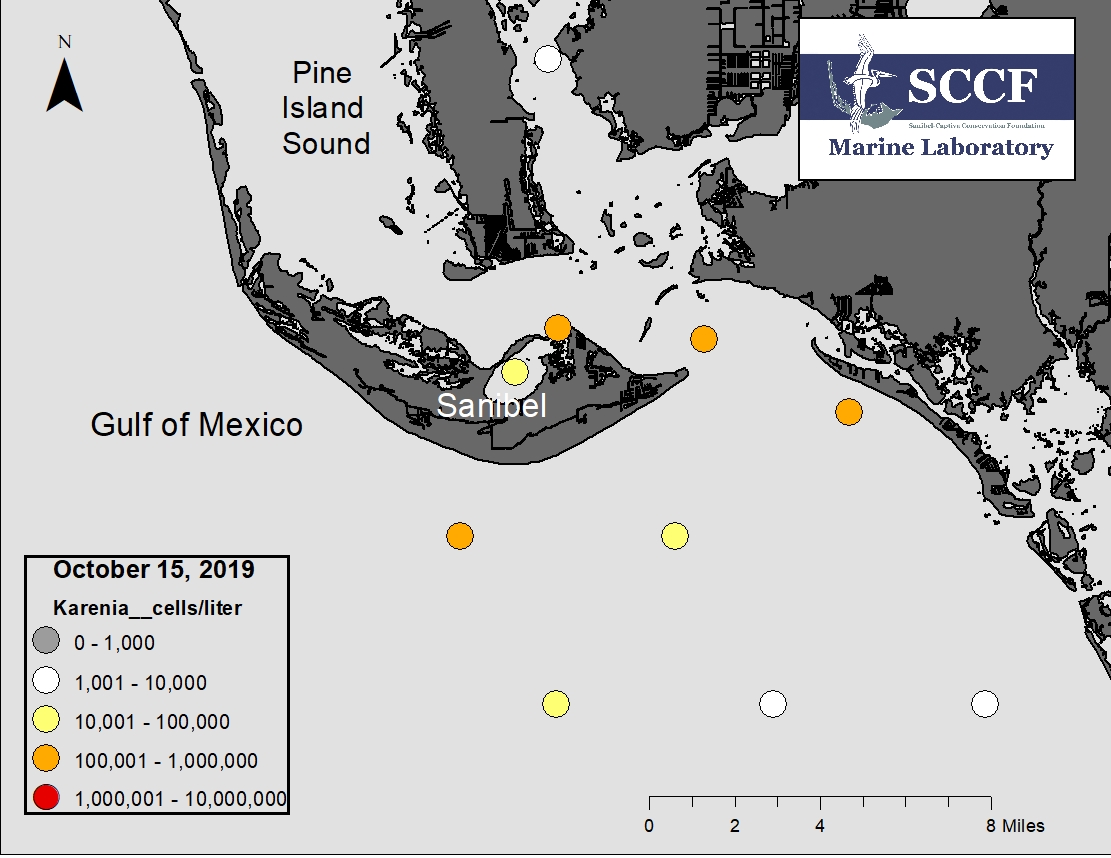 Research scientists from SCCF's Marine Lab took water samples on a short cruise Oct. 15 to the lower Caloosahatchee River, San Carlos Bay and into the Gulf of Mexico. They found Karenia brevis, the organism that blooms into red tide, present at all sites sampled. The maximum concentration they found was 880,000 cells/liter two miles offshore of Tarpon Bay Road Beach on Sanibel.
Levels higher than 100,000 can result in fish kills and respiratory irritation in humans.
Since September 2018, the Marine Lab has been systematically sampling the Caloosahatchee and Gulf of Mexico for nutrients, phytoplankton, and water quality. A total of nine trips are "in the can" with one more to go under our National Science Foundation (NSF) RAPID grant to study harmful algal blooms (HABs).
The NSF grant is intended to investigate how the intensity of red tide blooms is "related to nutrients in freshwater releases from Lake Okeechobee, a large inland lake in south-central Florida that is managed for flood prevention." The research will contribute to the lack of "strong scientific evidence to support the connection between the red tide and Lake Okeechobee water releases."
The objective of the project is to provide water quality data prior to and throughout major freshwater releases. These data will provide insight into cause-and-effect relationships between freshwater releases, and algal blooms.
NC State University's Dr. Natalie Nelson (NCSU) and University of Florida's Dr. Ed Phlips, are project collaborators with SCCF Marine Lab Director Dr. Eric Milbrandt on the NSF grant.
Next week, Marine Lab researchers will do a more expansive cruise into the Gulf from North Captiva to Sanibel.
For more information on the SCCF Marine Lab's research, please contact Dr. Eric Milbrandt, emilbran@sccf.org or at (239)395-4617, ext. 102
.
To learn more about Red Tide, please check out these resources: