Stay in the know about wildlife, water quality, and ecosystems on Sanibel and Captiva Islands and in Southwest Florida
Walking Tours Offer New Experiences
January 31, 2019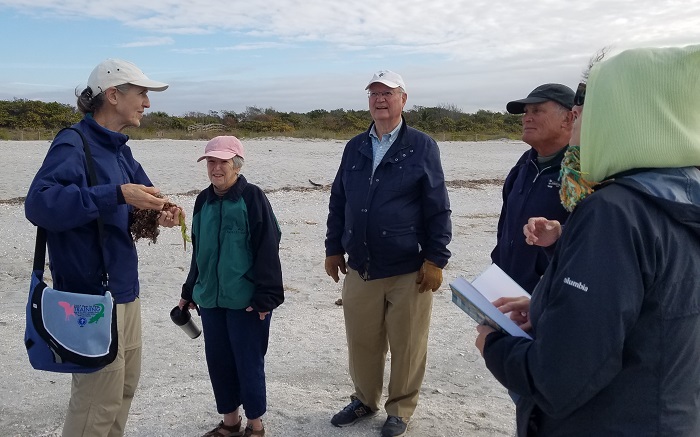 SCCF offers weekly walks to introduce fascinating new landscapes and wildlife to visitors and residents. From beaches to unique interior wetlands, our knowledgeable volunteers provide exciting insight into the history of the area as well as species seen along the way. Come join us!
Mondays: Weeds & Seeds
We are a group of amateur botanists who enjoy finding and identifying native plants on Sanibel and the Caloosahatchee watershed. Our walks, visiting different locations in Lee County, last for two hours, and are guided by a leader with a plant list. Depending on the location visited, you may need parking money. Please bring a hat, water, sun-block and comfortable enclosed shoes with socks. Meet at the Nature Center at 8:30am (depart at 8:45am) at the base of the porch and carpool to the site.
Upcoming Locations:
Feb. 4 – Bailey Tract
Feb. 11 – Cypress Cove
Feb. 18 – Erick Lindblad Preserve
Feb. 20 (Wed.) – Caloosahatchee Creek (Organized walk)
Feb. 25 – Bowman's Beach
Tuesdays to Thursdays: Interior Wetland Trail Walk
Sanibel Island is a unique barrier island in Florida because it still has an interior freshwater wetland ecosystem that has not been lost to development. Join us for a guided walk through the interior wetlands and mid-island ridges of the Center Tract with discussion of native habitats, natural, and cultural history and preservation efforts. Trail walks will be offered through March on Tuesday through Thursday at 11 a.m. Meet at the Nature Center.
Wednesdays: Bowman's Beach Walk
Meet your SCCF guide at Bowman's Beach at the foot of the bridge that crosses the bayou on the way to the beach. Your guide will lead you along the beach towards Blind Pass and back along the back dune/bayou trail. Keep your eyes open for shorebirds and gopher tortoises. Learn about SCCF's 50-year role in island preservation. Free to all. You must pay to park.