Stay in the know about wildlife, water quality, and ecosystems on Sanibel and Captiva Islands and in Southwest Florida
SCCF Conservation Forum March 20
March 12, 2018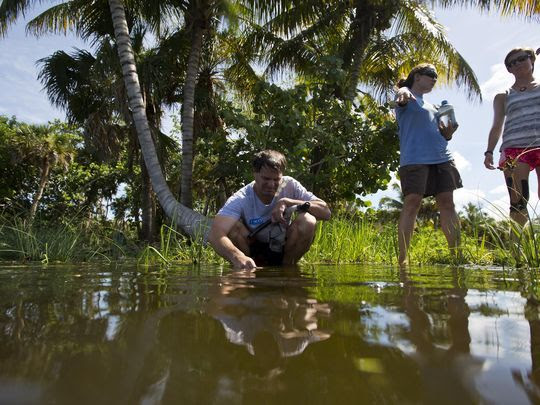 SCCF is proud to announce the return of its annual Conservation Forum. The event is free and open to the public. The program will begin at 7pm on Tuesday, March 20 at the Sanibel Community House at 2173 Periwinkle Way. Doors will open at 6:30 and light refreshments will be served.
We know that water quality in the bay and Gulf has been severely impacted by water management and events such as Hurricane Irma, but what is being done on-island to identify and improve water quality?
That's the question that will be addressed by the SCCF Marine Lab's Director Eric Milbrandt and Research Associate Mark Thompson, SCCF Natural Resource Policy Director Rae Ann Wessel, and the City of Sanibel Natural Resources Director James Evans.
"We are proud of the rigorous research we have undertaken in collaboration with Dr. Evans and his staff," said SCCF Marine Lab Director Eric Milbrandt, Ph.D. "We look forward to sharing the data with all islanders eager to learn the latest information about challenges to our island ecosystem."
The speakers will summarize and explore the results of the past seven years of research identifying sources and concentrations of nitrogen and phosphorus in our lakes, groundwater and stormwater runoff, specifically on Sanibel and Captiva Islands.
The research has been a collaborative undertaking by SCCF and the City of Sanibel. The presentation of findings will be followed by a panel discussion on the current status of projects underway to improve on-island water quality.
Founded in 1967, SCCF is dedicated to conserving coastal habitats and aquatic resources on Sanibel and Captiva and in the surrounding watershed. To learn more, please attend this event and visit www.sccf.org.